To say Venice is a temptress would be an understatement. I wrote the bones of this post after returning from a week in the lagoon for the first time, and I've now been back nearly 40 times in 10 years. I've never been somewhere so ravishing, so unique, or so god damned confusing in my entire life.
In this guide you'll find some basic – but very useful – travel tips (how to get around, gondola etiquette, sightseeing) along with the not-so-basics. I constantly refresh this post (last updated September 2021) to make sure everything is up to date for you.
It is my hope that this guide will help you to understand and appreciate La Serenissima a bit more than the average tourist. I want to help you explore, teach you something new, and show you how you can contribute to the survival of this most wondrous city.
An Introduction to Venice:
If you have time before your trip, I highly recommend learning a bit more about the history of Venice and Venetian culture. Venice is not 'Italian' by nature, and there is so much to the city's story that you'll benefit greatly from knowing. Even just a brief read over the Wikipedia page for Venice would be better than nothing and would enhance your Venetian experience, but I love the following:
Venice by Jan Morris – Said to be 'the best book about Venice ever written'. I haven't read every book about Venice ever written, but this sure is a damned good book so I'm not going to argue. It's comprehensive but not too lengthy, and a total pleasure to read.
Francesco's Venice – A four-part BBC television series that covers the history of Venice from its settlement to the present day. The series is hosted by Francesco da Mosto, who comes from one of Venice's oldest and most prominent families. Francesco's love for his city will rub off on you almost instantaneously, and he's funny as hell so this is not your standard tedious BBC history programme. Expect entertainment, enlightenment, and a fair few cigarettes.
Dream of Venice by JoAnn Locktov and Charles Christopher – I bought this beautiful book after my second trip to Venice, and I open it back up for inspiration all of the time. The photographs, quotes, and poems perfectly capture the magical, mysterious, and downright sexy side of Venice that some tourists miss out on. Buy this. It'll give you inspiration for your first trip and provide you with a piece of Venetian charm to look upon back home when you've been forced to return to real life.
All of these can be picked up on Amazon.
Dispelling Myths:
"But Venice smells!"
I'm still wondering where this rumour comes from. Perhaps decades ago, before more modernised plumbing came in, there may have been a bit of a stench from the canals on sweltering days? Whatever the case, it's gone now. Take it from me (someone who has been in Venice during a record heatwave in August) there are only two unpleasant whiffs you'll ever get in this city:
* The last hour or so of the Rialto Market.
* The sweaty tourists you'll be wedged between on the vaporetto.
"Venice is overcrowded and unbearable."
The Rialto Bridge, Piazza San Marco, and Santa Lucia train station are indeed overcrowded, sometimes to a maddening degree. The rest of Venice, however, can be a paradise of tranquility if you allow yourself to wander. There's truly nothing better than getting lost in the residential areas of the island, and I've wandered for hours some days without seeing a single person. I've even had Piazza San Marco entirely to myself (at 4am!), which is vastly superior to being elbowed and shoved around the Piazza in the middle of the day while flocks of pigeons desperately try to land/shit on you. Of course you'll want to see the major sights, but allow yourself time to wander, and to wander very early or very late in the day, you won't regret it.
"Venice is great for a day trip!"
No. No. Please no. Tourists on day trips are part of what's killing Venice. I don't like to make sweeping generalisations, but the vast majority of tourists that hop-off cruise ships and descend upon Venice are the tourist form of cockroaches. With just a few hours to explore Venice, many of them scurry straight to Piazza San Marco to take a few photos and perhaps buy a cheap postcard or plastic mask. Day-trippers in Venice crowd the boats, shoving locals out of the way while they unfold their giant, useless maps. They grab a (likely frozen, gross, and overpriced) slice of pizza from some cheap cafe catering to people like them. And then, when their few hours are over, they leave Venice with no further knowledge of it… having contributed nothing to the city. I know it sounds harsh, but I tell it like it is, and if you were thinking of going to Venice on a day trip, I hope I've changed your mind!
Sidenote: I once saw a man and his family literally knock over an elderly Venetian lady on the vaporetto in order to get a better view of the Grand Canal. As various vegetables from her shopping bag spilled off the boat and into the water, I thought seriously about ripping off his fanny pack and hitting him over the head with it. Instead, I helped her up while they (loudly) discussed amongst each other plans for their… get ready… four hours in Venice.
Don't be that guy.
"Venice is home to the worst food in Italy."
So wrong. Scroll down to the end of this post and click on the links to read some of my posts about the downright incredible meals you can have in Venice. I've got some great tips on where to find the best booze too… hello €1 glasses of prosecco!
"Venice is always flooding."
The acqua alta (high water) is a natural phenomenon that has been occuring in Venice for centuries. The main culprit for these floods is the tide, however global warming and the excessive dredging of the lagoon to accommodate behemoth cruise ships has created the perfect storm for increasingly serious floods in recent years. I won't get started on the MOSE project – a series of floodgates build to protect the island from severe floods – because the corruption and delays behind it is enough scandal for an entire series of posts. As a visitor, there are a few things you need to know:
– The floods mainly occur between October and March – and, from my experience, November seems to get the worst hit.
– The acqua alta is usually very minimal and normally only disrupts more shallow parts of the island. Piazza San Marco is always the first area to flood, and even there it's usually just some scattered large puddles you'll be facing.
– If you are visiting Venice during acqua alta season, don't worry. The Venetians are extremely well-prepared for normal occurrences of this natural event, and will erect elevated walking platforms in the areas most prone to mild flooding. Waterproof covers for your shoes/boots are readily available throughout the city when an unusually high tide is expected.
– If you do happen to be in Venice during exceptionally high tides, warning sirens will go off a few hours in advance to alert citizens and visitors. The first siren means 100cm, and every siren after is another 10cm. At 100cm about 5% of the city will be flooded, at 140cm 90% will be flooded. Flooding does not mean 'underwater', and the depth of the flood will vary greatly depending on where you are on the island.
Getting Around:
ON FOOT
If you've already bought a map for your trip, throw it away. Burn it even. The first thing you need to know about your time in Venice is that you're going to get lost. I mean it. Not a little bit lost, very lost. So lost. Lost all the time. Lost. You're lost. Do you understand me? Good. I have a seriously on-point sense of direction and I thought, despite everyone telling me I'd get lost in Venice, that I'd be fine. I was wrong. Venice is a city of winding streets, canals, dead ends, ridiculously tiny alleyways, bridges, more dead ends, more canals, and more tiny alleyways. Google maps can help to an extent, but honestly I wouldn't even bother. Just enjoy the beauty of being lost.
Something which may help you understand Venice is knowing that the island is 'divided' into six sestieri (essentially districts), plus the nearby island of Guidecca which is sometimes considered the seventh sestiere. Insert handy map: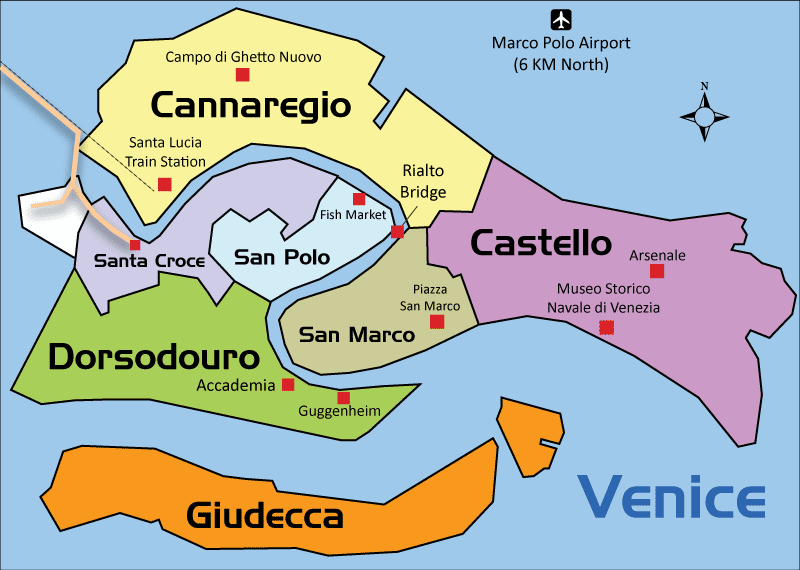 "How positively wonderful and logical" you might be thinking. You are wrong.
This is where the confusion of the century hits. Say there's a street called Calle Alba. Great. Or maybe not so great… because there can be a Calle Alba in each and every district, so you've got to sort out which one it's in. Furthermore, the numbering on any given Venetian street is not always in proper numerical order. Instead, the numbers can be in the order which they were built… so you could have 3 next to 7853 followed by 82. Fantastic.
Basically, good luck, and make sure you've got comfortable shoes on.
A note on addresses: Addresses in Venice aren't listed in the American or British 'Number, Street' format. Instead, most addresses look like San Polo, 4265… which is the sestiere (San Polo) followed by the number (4265). If you get heinously lost, pop into any restaurant or hotel you see, they should be able to point you vaguely in the right direction.
BY WATER:
* Vaporetto: The vaporetto is the water bus service in Venice. It goes up and down the Grand Canal and around the island itself, stopping at major points. If you're going to use this quite a bit, I'd recommend buying a 24/48/72 hour pass as they are a lot more cost effective than paying the €7 fare for each one-way journey. DO NOT FORGET to validate your ticket before each journey, or you could be subject to a hefty fine. There are little validation card readers before you board at each stop. Just hold your ticket against the reader and wait for it to beep and show a green light. Good to go.
* Traghetto: If you're trying to nip across the grand canal, please bear in mind that there's only four bridges in all of Venice that do this. That's where the traghetto service comes in handy.. Traghetti boats are the bigger, less formal sibling to gondolas. Locals stand up in the (slightly rocky) boats during the crossing, but if you're feeling wimpy it's not entirely frowned upon to sit down.
* Water taxi: Readily available, prohibitively expensive.
* Gondola: I'll tell you more about gondolas and how to get the most out of your ride later in this post.
Shopping:
From what I have gathered, there are three kinds of shops in Venice.
1) Horrific, garish, deplorable tourist shops. (Want a selfie stick or literally the dumbest postcard/magnet/shot glass you've ever seen? Perfect!)
2) Ferociously expensive designer shops. (Did you forget your Chanel bag at home? Whoops! No worries, you can buy a new one!)
3) Incredible local artisan shops. (Please avoid the two above and shop here)
I promise I won't judge you for picking up a magnet if that's really your thing, but if you're looking to buy something truly beautiful and hand-crafted, you're on the right island. Venice has so many incredible artisans, and a rich history of producing wonderful and unique
Head to my post on Venice's best independent shops and make a little shopping list before you head off on your trip.
A note on masks: Support this beautiful, historic Venetian craft by purchasing a handmade, one of a kind mask rather than a plastic piece of absolute shit from a souvenir stall. Check out my blog on Venetian masks to read about some of my favourite mascareri, where you can pick up a beautiful piece of wearable art to take home.
Sightseeing:
Ride a gondola
Let's get the obvious one out of the way. I was on the fence before my trip about whether or not I wanted to shell out for a gondola ride. The rates are set by the city, non-negotiable, and you'll be waving arrivederci to €80 for a 40 minute trip. It may seem like highway robbery, but a few minutes of research into how much a gondola costs to produce, maintain and (more importantly) how rigorous the training is to become a gondolier, and you'll quickly realise why it costs a pretty penny. Plus, you're in Venice for Christ's sake…. when are you ever going to get a chance to go on a gondola again?
Sidenote: Do not, even for a moment, think of mentioning those motorised piles of shame that are currently gliding about The Venetian in Las Vegas.
The key to getting the most out of your gondola ride is to know two things:
1) What do you want to get out of your gondola ride? Do you want a gondolier who will tell you all of the stories of the palazzos and the people who lived in them? Do you want someone who speaks great English… or do you want to practice your Italian? Do you want a romantic ride, perhaps with the gondolier singing you and your wife/husband/girlfriend/boyfriend/high class escort a tune?
2) What do you want to see on your journey? Have you dreamt about going down the Grand Canal on a gondola? Is there a certain bridge or sight you want to see by boat? Or would you rather see some of the picturesque tiny back canals in residential areas?
Once you can answer those two questions, you can begin your search for the perfect gondolier. There are a fair few gondoliers in Venice, to say the least, so don't feel bad about saying no to the first gondolier who offers you a ride. Ask questions, get a feel for personalities, and remember that no two gondola rides are the same. If you want someone chatty, ask them if they'd be happy to tell you about some of the city's history on your ride. If you want a serenade, ask before you get on if your gondolier does this (some don't, and likewise some shouldn't). And, if you want a ride that's longer than the standard 40 minutes, this is the time to ask about that and negotiate a price. I wandered around loads of the little canals before I found my gondolier, Sebastiano, who was quite young (and supremely attractive) for a gondolier. I told him I wanted to know a bit more about some of the oldest palazzos, and that I didn't want to spend too much of my ride in Grand Canal traffic.
We set off from a small canal, making our way around some gorgeous residential areas. Sebastiano took me by the palazzo where Casanova used to live, and told me about some of the ancient families of Venice. Towards the end of our time, Sebastiano rowed the gondola out onto the Grand Canal for a finale journey right under the Rialto Bridge.
It was a wonderful 40 minutes and I was very happy to pay the €80 (and a tip!). Although I had a wonderful time, I really do urge you to take my advice and find a gondolier who loves what he does. During my journey I saw more than a few gondoliers who had headphones in, listening to music as they steered tourists around or, even worse, were chatting away on their mobile phones during a ride. I can hardly blame their detachment, considering 95% of the tourists I saw in gondolas spent the entire 40 minutes taking selfies rather than engaging with their surroundings or chatting with their gondolier – it seemed a very sad sight to me on both ends. Do yourself a favour and take the time to find the right gondolier, relax and live in the moment after getting a few photos, and I promise you – you won't be disappointed.
Indulge your cultured side
Interpreti Veneziani – Chisea san Vidal, San Marco
If you're into classical music, there are some fantastic opportunities to enjoy it in Venice. Aficianados beware, though, as there are at least a dozen companies touting classical concertos by poorly trained musicians in embarrassingly inaccurate historical dress (cringe). I was recommended to Interpreti Veneziani by a friend. Although this is a widely known and well advertised concert, the musicians are unbelievably talented and not made up like Eighteenth-century tarts. The venue, the church of san Vidal, provides a wonderful atmosphere for the programme which changes according to the day of the week. I was lucky enough to experience Vivaldi's Four Seasons on the evening I attended, alongside some Handel and Bazzini. Book directly through their website for the best rates and for a full listing of each night's programme – handy if you're after something by a specific composer.
'Secret Itineraries' tour at the Doge's Palace – book here
The Doge's Palace (Palazzo Ducale) is on the top of many tourist's lists while in Venice, and it's a beauty. If you want to experience the palace properly, I'd recommend going on this tour that gives you so more more insight into the Venice of old than simply walking around by yourself. I'll hold myself back from giving you a lecture on Venetian politics as this entry is already becoming a novel, but the Doge was the head of the Venetian State and these were his headquarters. There was some crazy shit going on throughout the Venetian Republic, and they had some positively horrifying bodies of government like the Council of Ten (you don't want to meet them) and the Council of Three (if you've met them, you're probably going to die) who were responsible for the security of the Republic. They were known for their authority, secrecy, and knack for getting people to confess (ahem, torture).
A typical visit to the Doge's Palace includes all of the grand state rooms, but if you book the 'secret itineraries' tour online in advance, you'll get an extra 90 minute tour of all of the "back rooms" of the Republic. Secret archives, wards, offices, torture chambers, and even Casanova's prison cell and the story of how he escaped. It's truly incredible! The tours are run in various languages by exceptionally intelligent members of staff.
There's some brilliant art and architecture going on in this wing of the palace that you wouldn't normally get to see, and at €20 (which includes the standard entry to the palace) it's not at all expensive. Before or after your tour, visit the sumptuous reception halls and meeting rooms with some of the most incredible frescoes you'll ever see. When you're inside the Hall of the Great Council, look around at the portraits of every Doge along the top of the wall. You'll spot something odd when you get about halfway through – a big blackout over one of the portraits. I don't want to spoil the story for you, so ask a member of staff about the tale of Marino Faliero.
Explore the lagoon
If you've got more than a few days in Venice, consider getting out for a day and exploring the other islands dotted along the lagoon. All of them are easily reached by public transport on the vaporetto lines. Here's a little guide:
Murano: The closest island to Venice. You can reach Murano in about 10 minutes by taking the vaporetto from Fondamente Nove (in the Cannaregio sestiere). Murano is famous for its production of hand-blown glass, but be advised that about 80% of the glass being sold on Murano is imported from China. Real Murano glass is very expensive, very rare, and very difficult to produce. You will rarely find little trinkets made of real Murano glass, but you will find beautifully intricate wine goblets and chandeliers. Unless you've got a boat-load of euros to spend on an authentic item, use your money to get a nice lunch at one of Murano's lovely cafes rather than supporting a souvenir shop by purchasing a false Murano glass item that devalues the real craft
Note: Don't accept a "free ride" to Murano by any hotels or tourist agencies. You'll get your free ride alright, but you'll also get pressured to purchase poor quality glass that isn't even from Murano. The vaporetto to Murano is cheap, do it yourself and you'll get to visit and shop on your own schedule.
Burano: A lovely island, and a photographer's dream. Burano is about 45 minutes from Venice, and can be reached from Murano in just over 30 minutes if you're island hopping. It's known for the rainbow of brightly coloured houses that line its canals, and also for its history of lace-making. Unfortunately, as with the glass on Murano, much of the lace on Burano is machine produced lace that's been shipped in from other countries and has nothing to do with the history of the ladies on Burano who sit and painstakingly hand-weave stunning pieces of lace. By a stroke of luck, I managed to find a little shop on Burano that sold some beautiful, and authentic, Burano lace. An elderly lady sat in the side of the shop, knitting away while I browsed the pieces of vintage and contemporary lace. As expected, real Burano lace is very expensive, so I settled on a teeny tiny little doily as it was all I could afford.
Burano also has some lovely restaurants which serve exceptional seafood. This should be wildly obvious considering you're on an island, but I feel inclined to point it out regardless as I saw a lot of tourists eating pizza (maybe they don't like seafood?). The easy choice here is fritto misto, a selection of gently fried seafood and vegetables, it's basically the most badass calamari you'll ever have.
Torcello: Torcello is just next-door to Burano. Every fifteen minutes from Burano, you can take a five-minute shuttle boat over to this incredible medieval island. There's not much on Torcello, but that's the beauty of it. The main attraction is the Cathedral of Santa Maria Assunta, which has got some unbelievably well preserved 11th and 12th century mosaics. Also on Torcello? A shit ton of cats. They're protected and looked after by an organisation called Dingo which runs various cat sanctuaries throughout the lagoon (there's a huge one on Lido). Anyone who knows me knows how much I love cats, so I spent a lot of time on Torcello chatting to some locals around the streets and sitting with some of the cats in the sunshine. They're feral, but they're friendly with people and they're all looked after well so it's not unsafe to give them a bit of attention.
DINING AND DRINKING
If you're looking for some amazing, family-run, off-the-beaten-path restaurants and cafes… check out my guide to dining in Venice.
Don't miss out on a Venetian bar crawl during your stay. Click here for everything you need to know about cicchetti  (Venetian tapas), wine, and the famed spritz.
Spent all your money on beautiful handmade Venetian wares? Well done you, but don't starve. Here's a list of some of the best cheap eats in Venice.
Arrivederci xx,
Courtney