I'm here writing this blog because I can't even tell you how many times I've seen a tourist in Venice purchasing a tatty piece of plastic shit from a street vendor. While I've casually mentioned to many of them that there's an authentic artisan just down the calle, I can't always be in Venice to enforce good buying habits… as much as I'd like to be.
Venice is THE CITY of artists and artisans. I'm serious. Some of the most ancient, most beautiful, most near-to-extinction skills are still practiced on this island, and you are a complete fool if you don't support what's left of the locals by purchasing something handmade and beautiful during your trip.
I've spent a lot of time (and money) scouring Venice for the best locally run shops, filled with perfectly crafted items you won't find anywhere else. Below (in no particular order) are just a few of my favourites. I visit many of these places a few times a year, which means my flat is slowly turning into some kind of Venetian treasure trove… but I wouldn't have it any other way.
Sidenote: This list excludes Venetian masks, which quite rightly have their own dedicated post. If you're looking to buy incredible handmade Venetian masks, just click here for my favourite spots.
Plum Plum Creations (Fondamenta Dei Ormesini, Cannaregio 2681)
Plum Plum is run by Arianna, a lovely and talented Venetian artist. Arianna specialises in etchings and linocuts (you can even take a printmaking course with her in her studio!) and also does stunning watercolours. For the budget-conscious, there are beautiful postcards and bookmarks which feature Arianna's works, so it's a great place to stock up on cards to send home rather than spending your money on run of the mill postcards off of some plastic rack outside of a shop selling awful magnets and t-shirts. Being a big collector of antique prints, I was immediately drawn to Arianna's beautiful selection of contemporary prints of Venice. I purchased two to display at home alongside some older prints of the city. My favourite (top in the photo below) is a view of the city taken from the lagoon. It's a view that never fails to give me the weirdest mix of absolute joy (arriving to Venice by boat) and pangs of dread (looking back on Venice as I leave). Arianna is very friendly, and as a bonus – her shop is located near some of my favourite spots for cicchetti and dinner (Al Timon and Paradiso Perduto).
Paper Owl (Santa Croce, 2155/A)
To this day one of my all time favourite souvenirs from Venice is from Paper Owl. The shop is run by Stefania, who is an absolute dream. Stefania makes the most magical jewellery and art – all out of (you guessed it) paper. Her love for her craft is absolutely infectious, and she always goes out of her way to help you find the perfect gift or treat for yourself. Her paper jewellery is incredible, but my favourite are the tiny dioramas she makes inside of little paper boxes. There are a million scenes to choose from, many featuring Venice, and she has huge drawers full of different colours and scenes to choose from. I picked up this one below which features Basilica San Marco and it sits on my mantle to remind me of Venice every morning.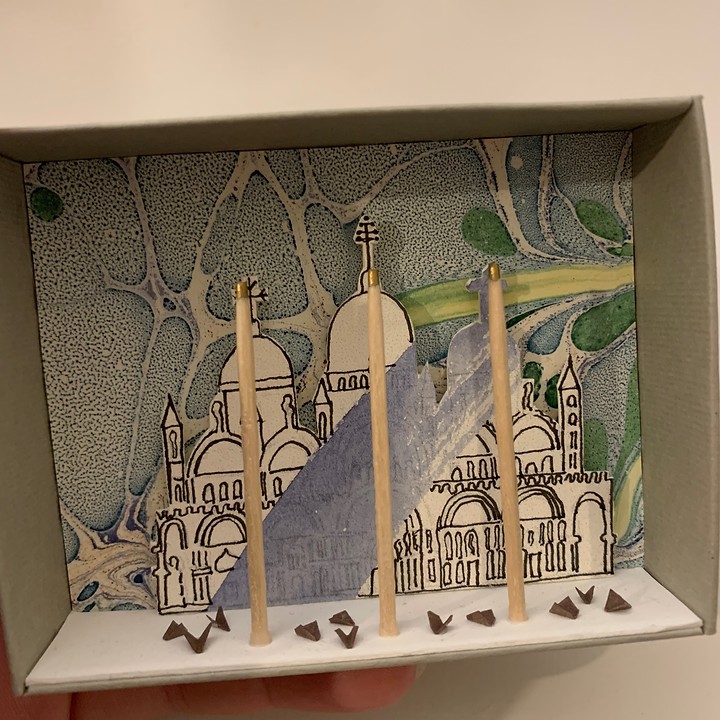 Rose Douce (Cannaregio, 5782)
I stumbled upon Rose Douce one afternoon walking from the Rialto Bridge to Campo Santi Apostoli to grab a spritz at Riccio Peoco (if you haven't been – GO). A beautiful pair of earrings in the window caught my eye, and I knew I had to have them but most likely couldn't afford them. Curiosity took the best of me so I went in anyway, and I'm so glad I did. Rose Douce is family-owned, and has been running the shop for generations. They specialise in exquisite examples of Murano Glass as well as very high quality costume jewellery. The jewellery doesn't come cheap, but every piece looks like it would have cost you about ten times what you paid for it – and the designs (based off of antique and famous pieces) are absolutely stunning. I bought the earrings, which I get compliments on all of the time, and eyed up another pair I'm planning to buy when I'm next in Venice.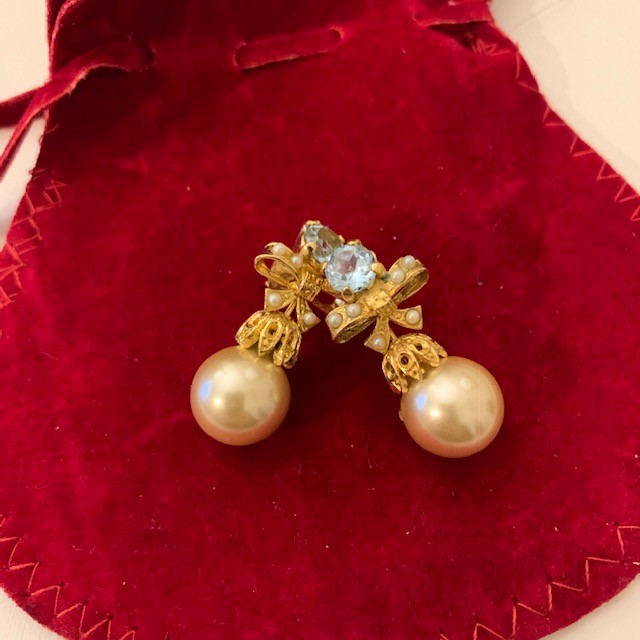 Gianni Basso Stampatore (Calle del Fumo 5306)
Gianni is an absolute LEGEND in Venice. Located down Calle del Fumo (the alley of smoke.. v mysterious) Gianni's place can be a bit difficult to find, but it's so worth it. Gianni has been making personalised calling cards and other stationary for – well, forever. He is as old school as they come and operates sans card machine, so bring your cash. Once you've chosen your design and font (from hundreds) Gianni makes your personalised stationary on his gorgeous antique printing presses. If you're in Venice for a few days, you can usually come back to pick up your goods. If not, Gianni is always happy to ship things to you… wherever you are in the world.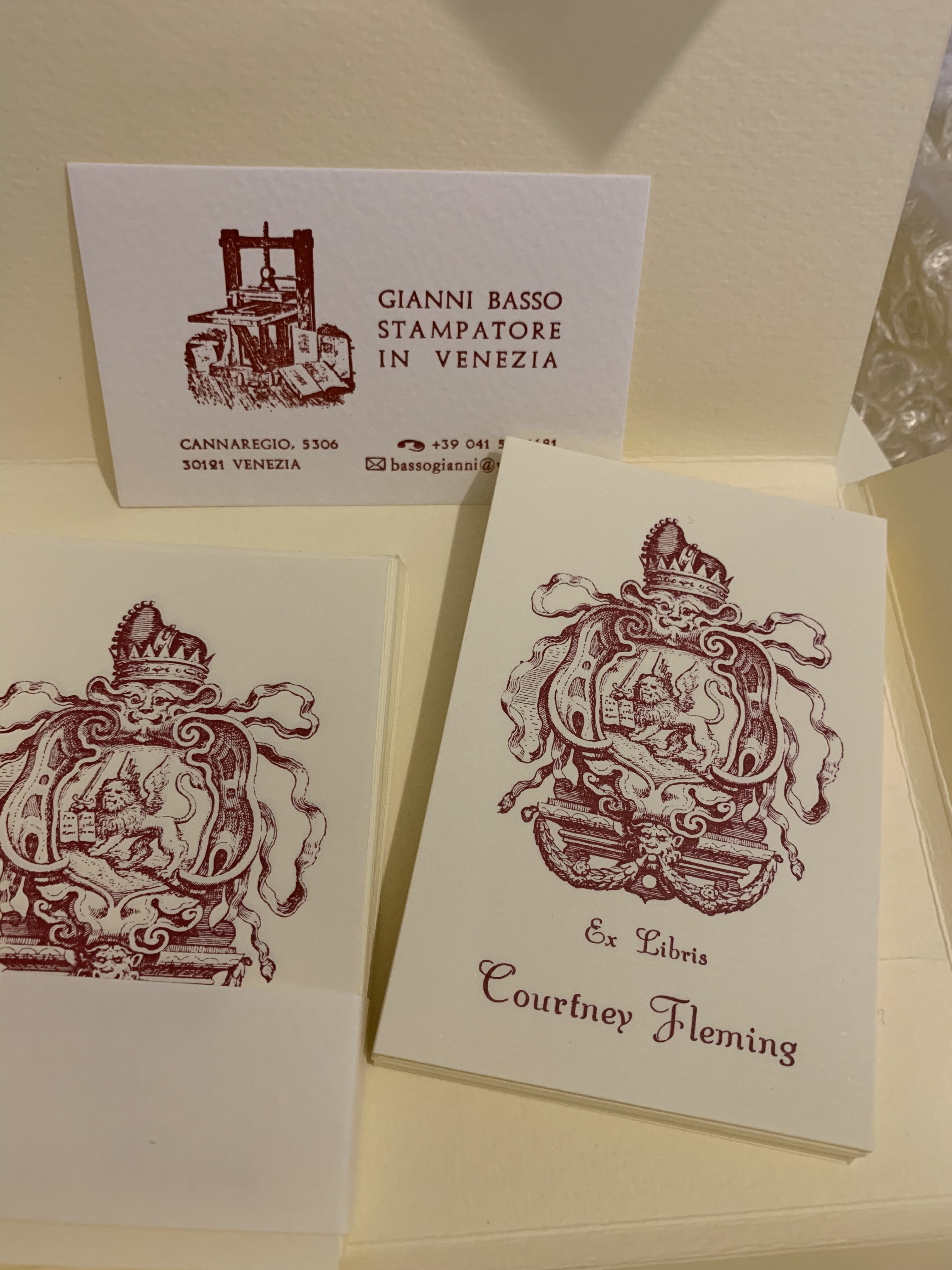 On my most recent trip to Venice, Gianni helped me design the most beautiful personalised bookplates (if you don't know what they are, you haven't read enough books) for my collection and shipped them to me in the UK with a beautiful handwritten letter. It's worth mentioning that Gianni has some pretty serious clientele, although he'd never brag about it. Look at some of the names on the cards at the front of his shop and you'll find Ben Affleck, Hugh Grant, Joseph Brodsky, Angelina Jolie, etc amongst other more 'normal' names. These aren't sample cards, these are the people who have come to see Gianni to design the world's best stationary.

Eredi Jovon (Ponte di Rialto 5325)
You might not expect to find some of the city's most beautifully handcrafted jewellery in one of the most densely populated tourist spots – but the Rialto Bridge is actually home to a fair few exceptional jewellers. Family-run Eredi Jovon, known for their intricately carved cameos and vibrant Italian coral, is one of my favourites. On a recent trip for my birthday, I splurged on these drop-dead stunning earrings with pearls, little carved coral rosettes, and enamel.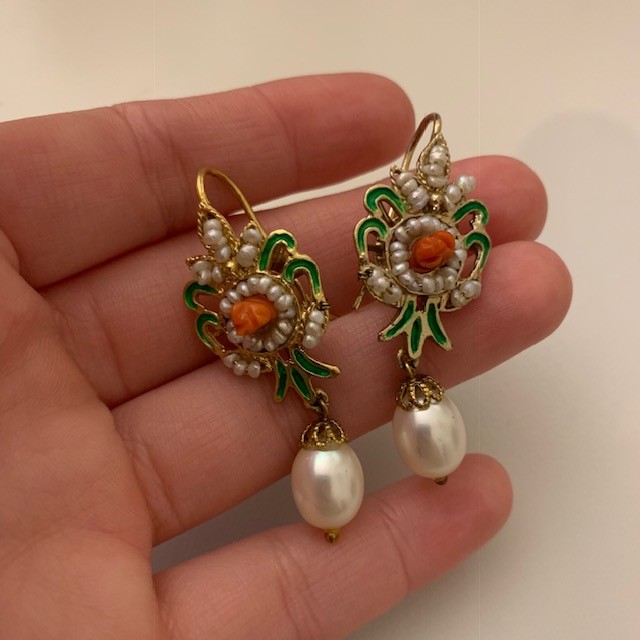 Eredi Jovon also do custom cameos, which make a heartfelt gift. Make sure to stop in next time you're crossing over the Rialto!
ArzanArt (Calle del Cafetier, 6479A)
I discovered ArzanArt on my most recent trip to Venice, when my mum was really keen on finding some beautiful marbled paper to take home. Recently opened by the loveliest Venetian couple, ArzanArt is like walking into the most beautiful acid trip of colour.
Federico is the man behind the paper, and every single sheet is a unique piece of art that will never be repeated again. I literally spent hours with my parents sifting through the different sheets and chatting about how the designs are made. Isabella, who is an absolute angel, is responsible for all of the beautiful items in the shop made from Federico's paper. You'll find bookmarks, pencil cups, eyeglass cases, greeting cards, earrings, mini books and journals – you name it! It's shops like ArzanArt where you can really understand how unique and important Venice's artisans are – and it makes you feel so good to know you're supporting something so genuine. I got a stack of paper sheets for some old books which I'm getting rebound in the near future, as well as the lovely pencil holder below which sits just above my desk and reminds me to be creative and passionate in everything I do.
Piedaterre (San Polo, 60)
'Furlane' are lovely Venetian slippers, traditionally worn by gondoliers. They have rubber bottoms (usually made from used bicycle tyres) which gives exceptional grip to the wood of the boats, but they're as beautiful as they are practical. I used to get my furlane from a man who would let you pick out your fabric, and then would measure your foot and make you a custom pair within about an hour. He'd been making furlane for so long that sometimes he would just look at my foot and know exactly what size I was. Sadly, like so many Venetian artisans, he was forced out of his shop due to the skyrocketing rents in the city. I hear he's trying to open up again, so I will update here as soon as I find out. In the meantime, I can highly recommend Piedaterre for all your furlane needs. They can be a bit pricey, but they use the most exceptional fabrics (think sumptuous velvet and shimmering brocades) and they offer different styles of furlane to suit your style/feet. There are stacks and stacks to choose from, and you'll feel like a Queen when you're strolling around in your velvet slippers.
Rialto 79 (San Polo, 79)
If you're looking for Murano Glass but can't make it to Murano itself (which can be a maze of tourist traps if you aren't in the know) Rialto 79 is your one-stop-shop for Murano Glass jewellery. It's a family-run business, and there is something beautiful to suit every price range. Every piece is certified authentic Murano Glass, and there are pieces with extremely rare beads. I picked up a gorgeous set of a drop earrings with shimmering aqua and gold beads, as well as two (incredibly well priced!) simple Murano Glass bracelets.
It's worth noting that if you're looking for something very specific, Rialto79 can likely design it for you on the spot. There are drawers and drawers full of different coloured beads, so don't be afraid to ask if you've got something in mind.

Libreria Acqua Alta (Calle Lunga Santa Maria Formosa 5176/B, Castello)
If you're the bookish type, you won't want to miss this, um…. experience. This little book shop is a total shit show and I can never quite decide whether I love or hate it. Books are piled (floor to ceiling) with essentially zero guidance on genres. There's a huge gondola just sitting smack in the middle of the store filled with books. There's also a bathtub, lots of cats, a staircase made of books, and the world's best fire exit (seen below).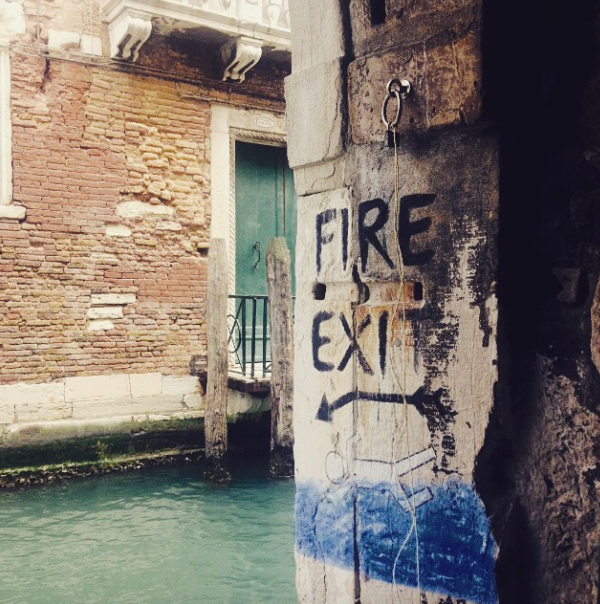 If you're looking for anything in particular, you can ask the owner. And if you're not looking for anything, ask the owner something anyway for sheer entertainment value because he's a total fucking lunatic. He's also a perv and will take any chance he gets to show you the erotica section… or propose to you. Don't say I didn't warn you!
Proscuitto e Parmigiano (Calle del Mondo Novo 5793, Castello)
If you live in the EU or you're allowed to bring home meats and cheeses from your trip, this is the best place to stock up. You can buy a giant wedge of parmesan, some beautiful proscuitto and any other delicacy you could imagine from this little shop. If you ask, the friendly owners will vacuum pack everything up for you so it stays perfectly fresh for your journey home (guess what I'm eating all week). To top it all off, the prices are among the cheapest I've seen in Italy. I got an absolute brick of top quality parmesan for under €10, less than what I'd pay in England for substandard parm.
Shopaholic?
If you're still looking for more amazing places to shop in Venice, I cannot recommend Venezia Autentica enough for tips and guidance. It's run by a local couple who seek out the best of the best in the city, and help to ensure local businesses keep running. You can even purchase a Venezia Autentica Friends Pass, which gets you 10% off in their partnering shops (including many of the ones I've told you about above!). By the way, I'm not affiliated with Venezia Autentica – I just bloody love them.
Lots of love and make sure to leave a comment below about your favourite Venetian finds!
xx Courtney