To be honest all I could think about in the lead up to my brief jaunt to Rome was the Lizzie McGuire Movie. To my absolute shock and horror, I was not mistaken for a super famous Italian pop star immediately upon arrival… but I somehow still managed to have a good time (even when I discovered that the Trevi fountain was closed for renovation and cried about it in public because I was drunk).
Before I say anything else, I must stress one thing:
If you are planning on visiting Vatican City do not, under any circumstances, expect to just rock up and walk into St. Peter's Basilica. I wept internally at the sight of the literally never-ending line of poor souls who made this rookie error. They hung their heads in shame and sweltered in the Roman sunshine for their sins. God may not judge you, but I do. If you want to visit the Basilica stress-free (and also see an area of Vatican City literally almost nobody else in the world ever will) I've got a great big fat tip for you in this post. But, first things first…
Lunch:
Pizzarium – Via della Meloria 43, 00136
I had my heart set on finding the best pizza in Rome and varying sources (google, locals, christ himself) confirmed that Pizzarium was where I needed to be. Pizzarium is run by Gabriele Bonci, the Roman god of pizza. It's located about a 10 minute walk from the entrance to the Vatican Museums, in an unassuming residential area, right in the centre of a little strip of shops. It's also very near to Cipro on the Metro if you're a lazy git but I warn you, you're going to want (need) to walk off some of the calories you're about to eat.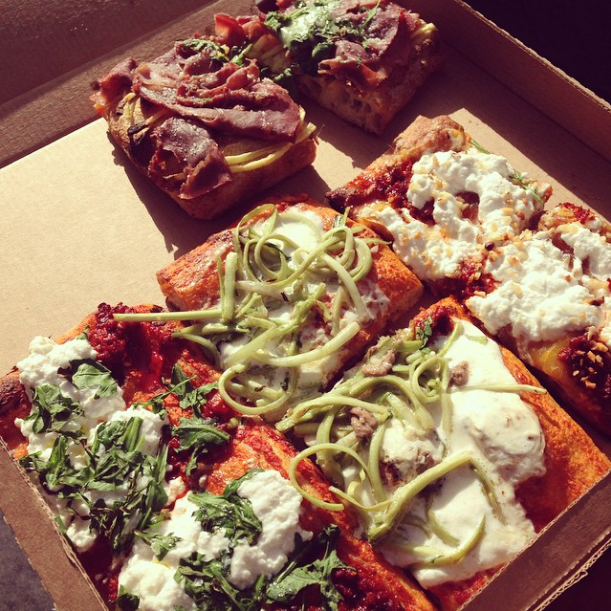 GIMME DAT.
When you step into Pizzarium, the first thing you see is Bonci's pizza displayed in numerous rows. It's sold by the slice, and each slice is weighed out and charged accordingly. It's not cheap, but I can guarantee you it's worth it. Flavours vary according to what's in season, and there's always some veggie/vegan options. I thoroughly recommend anything with burrata or bresaola as a topping. You can also get 'suppli' – big fried balls of risotto, like arancini on steroids. There's nowhere to sit inside, but there's a couple of benches outside which quickly fill up. If all else fails, just walk yourself to any nearby steps/benches/sidewalks/parks.
The part of Vatican City 99% of tourists never get to see:
In this section, I am going to divulge my biggest Roman secret and tell you how to book the elusive 'Scavi' tour. Forget the Colosseum (or maybe don't, it's pretty cool) this is the one experience in Rome that you genuinely cannot miss! The Vatican's excavations office (Scavi) allows a certain number of visitors each day to literally go underneath Vatican City into the old Roman necropolis (city of the dead). This was easily the most incredible hour I spent in Rome.
First and foremost, this is not one for claustrophobics. You will be hundreds of feet underground, beneath Saint Peter's Basilica, in an ancient city. It is both cramped and extremely humid down there. I went in November and everyone on the tour was dripping with sweat so I can't imagine what it's like in August. That being said, this was such an incredible opportunity that I would say it's worth the odd chance of fainting from heat exhaustion.
Booking in advance is essential with a capital E and an emphasis on the advance. I'd try and book in at least 3 or 4 months in ahead of time, especially if you'll be in Rome during the peak summer season. Details on how to book can be found here. It's a bit of a fiddly process with a few email exchanges and date shuffling normally going on, but you'll eventually get your reservation and pay the €13 fee (BARGAIN!) which confirms your place on the tour. There are absolutely no photos allowed once you're inside, which is actually quite nice as you are forced to really take in everything around you.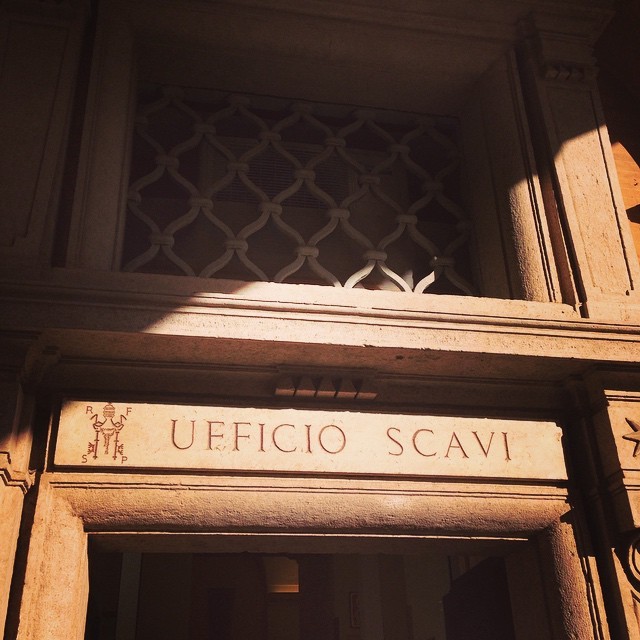 The Scavi office.
I won't spoil the tour by telling you everything you get to see, but the necropolis is unbelievably well preserved and you feel like some sort of secret agent/archaeologist hybrid when you enter the underground city through a small sliding glass panel that bears the coat of arms of the Vatican. Towards the end of the tour, you are allowed to visit the Tomb of Saint Peter which, regardless of your religious beliefs, is a pretty surreal experience. The tour finishes in the grottoes and you are then free to explore the Basilica at your leisure (without having to wait in the utterly ridiculous line!).
Remember: Dress appropriately! Although it can be absolutely stifling in Rome, you're about to enter the holiest place in Vatican City. There's a strict 'cover your knees' rule for both men and women and you won't be allowed on the tour if you rock up in shorts like a dick.
CATS!!:
I am not ashamed of my cat lady status. If there is a cat in your country, I will find it. I will find ALL OF YOUR CATS. If you're allergic to cats I'm very sorry and read no further. If, however, you're an animal lover or a cat owner then Largo di Torre Argentina is something you really shouldn't miss in Rome. Largo di Torre Argentina itself is an ancient Roman ruin. It used to be a vibrant square with various temples and a theatre. It is also the location where Julius Caesar was murdered (by Gretchen Wieners). But, while I love history dearly, let's focus on the more important part of this ancient Roman square: cats. so. many. cats.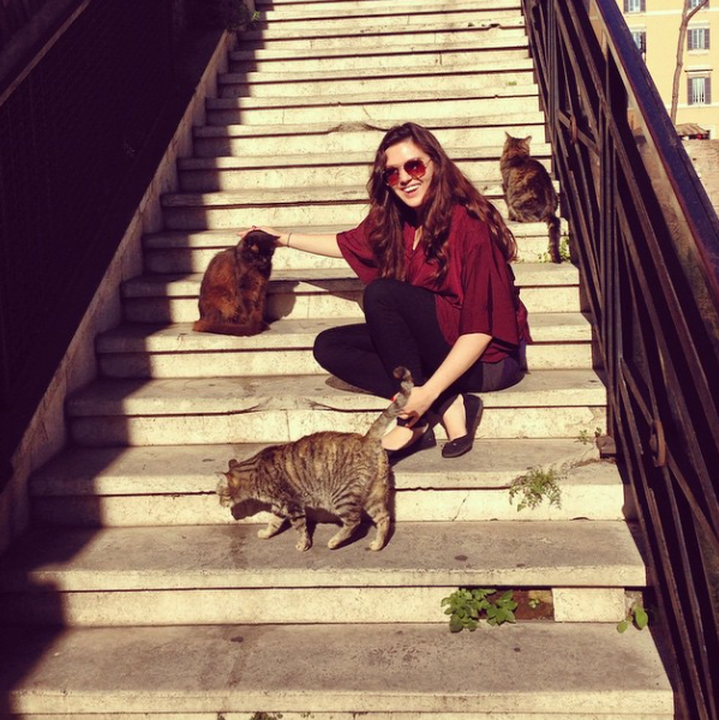 Living the actual dream.
Apparently Rome has a problem with cats. I never knew cats could be a problem, but Rome has a whole lot of cats which to me sounds like an ideal situation. The Cat Sanctuary was established as a no-kill shelter for the homeless and injured cats of Rome, and literally everywhere you look there are cats. The ruins aren't accessible to humans, so the cats just hang out being cats in there, and every once in a while a few of them will pop out to the sidewalk for a cuddle or to see if you'll let them eat some of your panini.
Visitors are welcome to visit the small indoor shelter which has been set up to care for the cats that aren't allowed outside for medical reasons. It smells ferociously of cat wee inside, but your nostrils adjust surprisingly quickly. I spent a heartbreaking few hours inside giving attention to the various cats they care for. It's certainly not for the faint-hearted, there are cats inside that have lost limbs in car accidents, cats who are entirely blind, some missing their eyeballs, and cats with neurological problems who can't walk or eat properly. But they all had one thing in common and that is that they were gentle, loving, and well cared for. I sat on the floor for a while holding a sweet, purring blind kitten and still wish I could have taken him home.
The shelter is run by a team of volunteers, many trained veterinarians, who devote their time to caring for the cats and trying to find them forever homes (if you're from Europe you can adopt one!!). Back outside in the sunshine I spent some time with the most precious cat who came straight over to me, jumped into my lap, and purred loudly whilst clinging to my leg and not allowing me to move.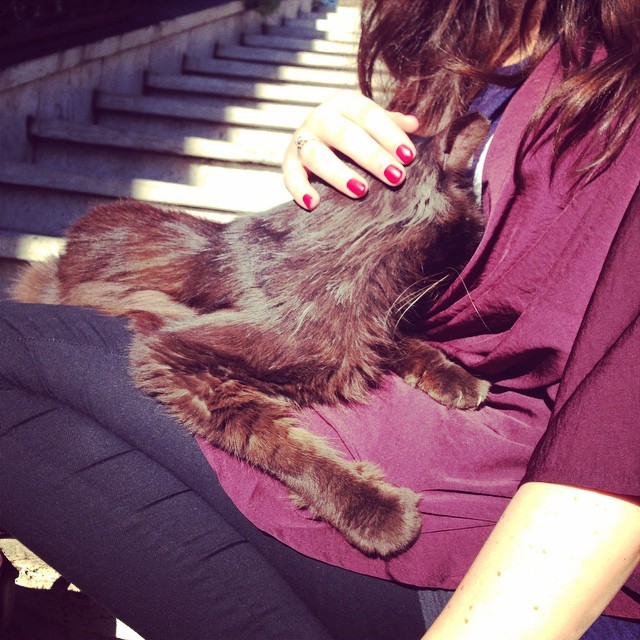 All you need is love.
I wish I could have spent longer at the sanctuary, and I gave a donation to help ensure this place can stay running and caring for Rome's displaced kitties. If you're an animal lover please consider donating to this amazing sanctuary, just click here for their website and then go to the "you can help" page.
The dinner of all dinners:
Da Enzo al 29 – Via dei Vascellari 29, 00153 Have you ever waited 8 hours to get a table at a restaurant? I have. Before jetting off to Rome, I had made a few unsuccessful attempts at booking in for dinner at Da Enzo, recommended to me as the best place to get classic Roman cuisine. With luck clearly against me, I figured I'd just take my chances when I got to the city. I stopped by Da Enzo around lunchtime, but had just missed their lunch opening hours. They couldn't pen in a reservation for me in the evening, but said to just pop back around 6PM and that something should be available.
I strolled back to Da Enzo and arrived, as advised, just before 6PM. FYI: There are loads of amazing bars in the Trastavere area where Da Enzo is to grab a glass of wine or five while you wait. The smells coming from the restaurant were the sweetest devices of torture ever created. People came and went but our name never seemed to get called. I began trying to decipher the reasoning behind some immediate seatings (one man showed up with a cake and this seemed to do the trick). Within an hour, there was an actual crowd outside the tiny restaurant, an eclectic mix of locals and tourists. We all stood, a unified army of ravenous creeps, watching people eat their delicious food and wondering how to crack the system and get the next table.The restaurant very clearly sat locals on one side of the room and non-Italian tourists on the other side. It appears they had one English speaking waiter and one Italian waiter, each working their own half of the restaurant, so the segregation seemed fair enough. I will happily allow myself to be marginalised if I still reach the end result of good food.
I ordered the burrata (literally mozzarella cheese stuffed with cream, so deal with that) and the fried artichoke to start, both of which were exceptional. I'd go deeper into how wonderful it was, but honestly I think the words cheese stuffed with cream is enough.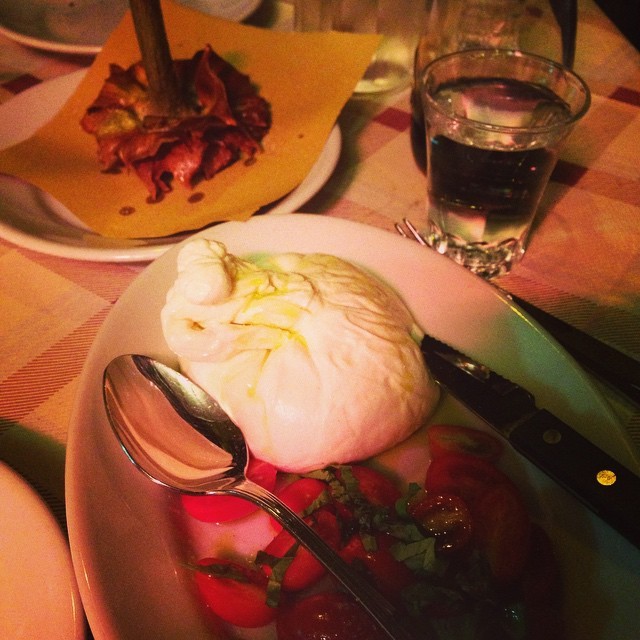 Burrata and fried artichoke.
For the main I had the carbonara which was decadence personified. Loads of parmesan, crushed black pepper, and egg yolk. Dessert was the best tiramisu of my life. The best part? It wasn't even that expensive. I left so stuffed, happy, and a bit drunk that I didn't mind the unprecedented wait before my meal, although if you're planning on going I'd certainly try and make a reservation!
That's all from me for now…
There's obviously SO MUCH MORE to see, do, and eat in Rome (and I plan on getting back there very soon), but I hope this little entry has given you a unique idea or two for your own Roman holiday.
Ciao ciao ciao ciao ciao
xx Courtney