"Oh my god, Venice is sooooo expensive" drone the typical tourists who never venture further than 30 seconds from St Mark's Square or Rialto Bridge…
The fact that you're reading this means you do research before/during your trip, which means you're NOT the average tourist, which means I love you. And, because I love you, I'm going to let you know all of the best spots in Venice to grab a quick, cheap, filling lunch that isn't McDonald's because WHY IS THERE EVEN A MCDONALD'S IN VENICE.
Sidenote: I was once so hungover I caved and ate a McMuffin in Venice. Nobody could judge me more about this than I am already judging myself.
The best (and most authentically Venetian) way to eat cheaply in Venice is by introducing yourself to the glorious world of cicchetti. You can find out more about cicchetti and Venetian bars in my rather delightful post on the topic (shameless plug).
However, if you find yourself tiring of crostini one day and fancy something different, these spots should be at the tippy-top of your money-saving list. They are all takeaway joints (with the exception of Cip Ciap which has a few bar stools knocking around) so you'll have to eat your food on the move, but that's part of the fun.
PLEASE remember that loitering on bridges in Venice is massively frowned upon. Bridges are not dining tables and by stuffing your face on the steps you are getting in the way of everyone, including locals who have enough to deal with without having to climb over your lazy ass to get to the bank or to pick up some bread. Don't be a jerk. Thank you.
Dal Moro's – Castello, Calle De La Casseleria 5324
Far more than just a quick eat, this place is an institution. For €5-€7 you can get a heaping portion of freshly made pasta with the sauce of your choice and various toppings (read: ALL THE PARMESAN). I can't recommend the pesto enough. Beware of all of the imitation pasta to-go joints that have popped up nearby, Dal Moro's is the real deal.
Acqua e Mais – San Polo, Campiello dei Meloni 1411
This one's for the seafood lovers… although they do have plenty of veggie & meat options for all of you weirdos who are visiting an island but don't like seafood. Acqua e Mais is known for their paper takeaway cones filled to the brim with freshly fried everything. They're a hop, skip, and jump away from the infamous Rialto fish market, so you know you're getting the lagoon's finest here. The calamari e gamberi is my favourite, a big cone stuffed with piping hot squid and shrimp (and a slice of polenta if you ask nicely). Mmm, tentacles.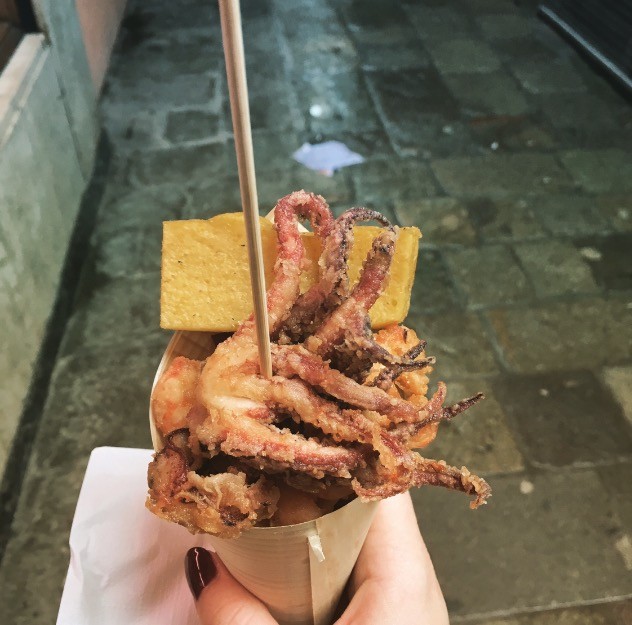 Cip Ciap – Castello, Calle del Mondo Novo 5820
You can get shitty pizza by the slice (and entire shitty pizzas) just about anywhere in Venice. In fact, I think there's more shitty pizza in Venice than anywhere else in the world. Fortunately, there's also incredible pizza… and Cip Ciap is once of the places you'll find it. The flavours they offer by the slice vary each day, and they're big on using seasonal ingredients (last Autumn I had an incredible slice with roasted pumpkin, kale, and soft cheese). If you want to create your own pizza or you're just super greedy, you can order a whole pie as well.
Prosciutto e Parmigiano – Castello, Calle del Mondo Novo
This spot is technically a shop not a takeaway, but I'll let you in on a secret. As purveyors of some of the finest cured meats and cheese in all of Venice (all of Italy, even), this place has started offering mini picnics to go. For an incredibly reasonable price, you'll get a heaping plate of cured meats and cheeses of your choice with some napkins and cutlery. Combine this with a quick stop into the local bakery (they'll point you in the right direction) for some olive bread, and your hoard is complete. Picnic in hand, head over the bridge and turn right to sit on the edge of the canal by the gondolas and watch the world go by while you dine. Fellow winos: There's a Coop (small grocery shop) nearby so you can pick up a bottle of local vino to have with your picnic. You're welcome.
Bar Ae Maraveje – Dorsoduro, 1185 Calle della Toletta
This is my go-to spot for one of those days where you just have to grab a sandwich and run. Maraveje has a huge selection of tramezzini, which can only be described as the most overstuffed, bloated sandwiches you'll see in your entire life. Google them, you'll see what I mean. They've also got beautiful panini, and I always grab a glass of their locally made house wine to sip on while mine is being toasted.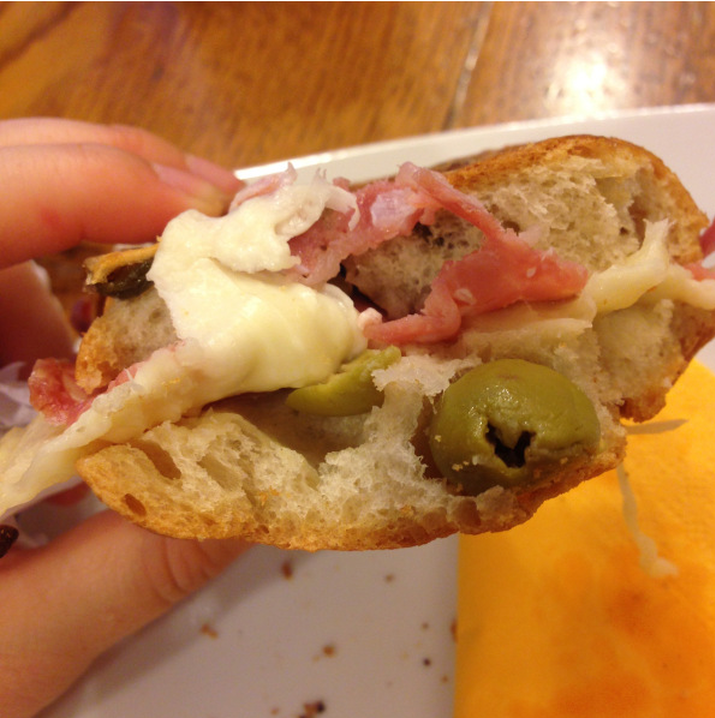 Salumi e formaggi panino at Bar Ae Maraveje.
If they have it during your visit, always try any panino made with their olive bread. If you're a fan of olives this is your moment. There are literally huge, whole olives hidden throughout the bread.
Happy dining (and money saving!)
xx Courtney