I lived in the beautiful state of Arizona for quite some time growing up, and I always took it for granted. Now that I'm living in England, when I visit relatives in Arizona I always make sure I take the time to appreciate its natural beauty. There are so many places to explore in Arizona, but Cottonwood is one of my favourite Arizona 'secrets'. It's only about a 30 minute drive from Sedona, an area famed for its natural beauty and spiritual importance. Unfortunately, Sedona has now become tourist-laden hell. Everywhere you turn someone is trying to read your palm, shove a crystal in your face, or sell you a t-shirt covered in dirt (I'm not kidding – and yes, people buy them). There are still some great hiking trails on the outskirts of the city, but if I'm heading to that part of Arizona I'll take Cottonwood over Sedona any day.
Old Town Cottonwood is a proper middle of nowhere Arizona town that's recently had a (classy and sympathetic) makeover into a haven for winos and foodies. Everything you'd ever need is located right on the town's Main Street, which is hardly even a mile long so incredibly walkable… even for lazy Americans.
If you're planning to stay in town overnight, I highly recommend The Tavern Hotel (review coming shortly). In either case, here are my top tips for a beautiful day out in Cottonwood.
Breakfast:
Crema – 917 N. Main Street
Hands down the best coffee in town, alongside a menu bursting with the filthiest of food porn. They do high quality fair-trade bottomless coffee for $3, but if you're looking for something different try the mayan mocha or a honey vanilla breve. Food-wise you really can't go wrong. I usually get the Arizona burrito (potato, egg, black bean, avocado, cotija, cheddar) with added bacon because, well…. bacon. They also do ridiculous breakfast tacos, like the 'providence tacos' with lobster, chorizo, chile glazed bacon, arugula, pico de gallo, cheddar, and poblano crema if you're looking for pure decadence. My father rates the chicken and waffles if you have a semi-sweet tooth, but he replaces the waffles with pancakes because he's weird like me.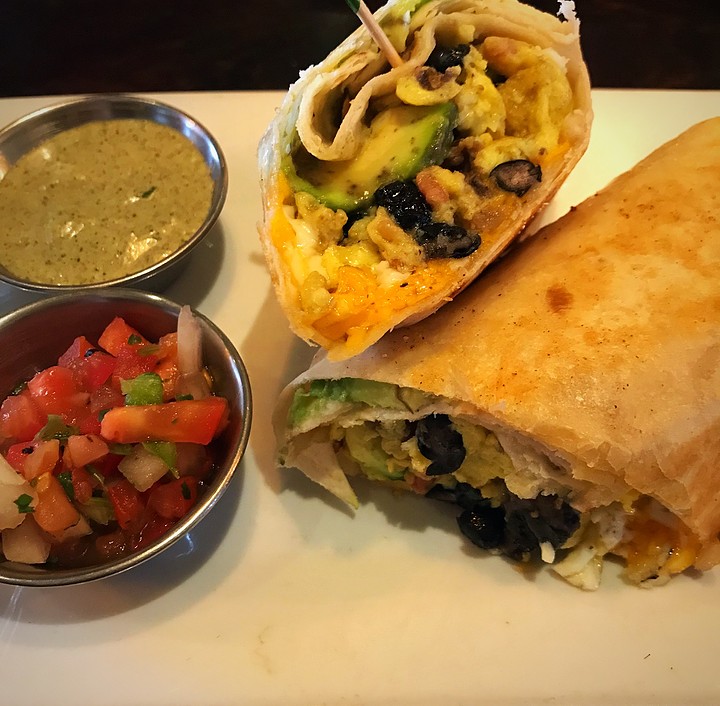 Arizona burrito GET IN ME.
Crema also does lunch if you feel so inclined. I hear great things about their lobster roll and the monte cristo. And, if you're watching your calories or just hate the finer things in life in general, they have lots of healthier options such as quinoa porridge, a protein egg white bowl, and yoghurt parfaits.
Shopping:
Larry's Antiques & Things – 796 N. Main Street
I live in Europe, so American antique shops usually resemble shoddy garage sales filled with tat. This place still does, but there are some actual treasures to be found amidst the junk. It's positively MASSIVE so you could easily spend a few hours perusing the various rooms and outdoor area. It's great for old school 'Americana' memorabilia. I've seen things like old Singer sewing machines and an E.T. lunchbox. If you dig around there's usually some amazing old books hidden away too.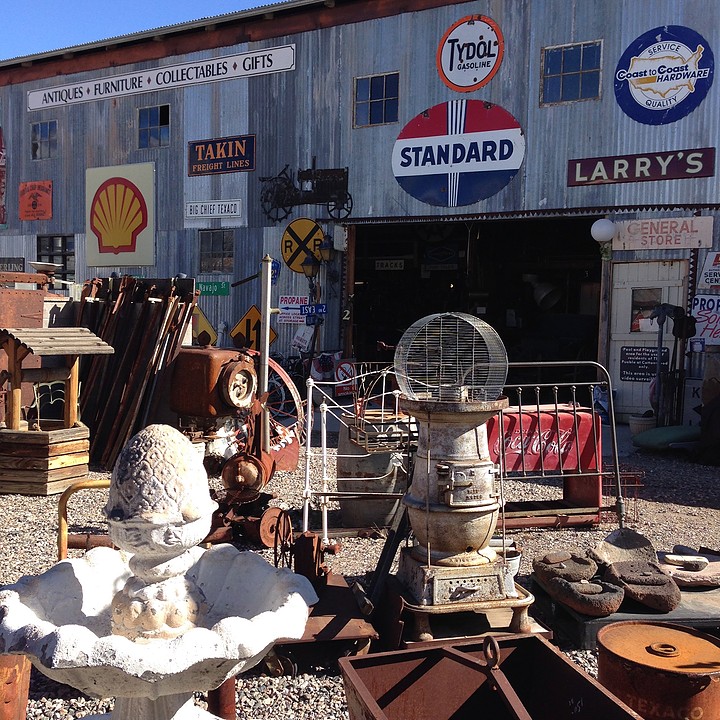 Junk. But fun junk.
Verde Valley Olive Oil Traders – 1002 N. Main Street This lovely little oil & vinegar shop is run by a husband and wife dream team. I'm usually a total olive oil snob (I've been to Puglia) and an even worse balsamic snob (I've been to Modena) but their stuff is the real deal. Everything is a bit on the expensive side, but you're paying for high quality oils and vinegars to be imported to the country and then infused… so deal with it. Some of my favourites include the harissa hot olive oil, whole fruit lemon olive oil, and mission fig balsamic vinegar. They're always happy to pack everything up for gifting, and have pretty incredible recipe and pairing ideas for some of the wilder flavours.
Lunch:
The Tavern Grille – 914 N. Main Street
This is going to be the fattest thing I ever say, but I'm telling you now… whatever you order, get a side of french fries and ranch with it. I have no shame. Their fries are mega crispy on the outside and all of the fluff on the inside. I consider myself a ranch connoisseur, sampling as much ranch as I can on every visit to America, and this is genuinely the best ranch in the country (probably the world). The Tavern Grille hasn't paid me to say any of this, but if they feel like paying me please may I have my wages in ranch. Booze-wise they knock out exceptional cocktails, rotating craft beers on tap, and (no surprise here) a great list of local wines. On the menu besides the fries, I highly recommend their lavosh 'pizzas', santa fe spring rolls, and the incredible list of soup (filet mignon chili OH MY GOD), salad, and sandwich combos. If you're lucky to be there during happy hour order the sliders.
Wine Tasting:
MY FAVOURITE PART OF THE DAY!! There are, at any given time, about a dozen places to sip the vino on the main drag in Cottonwood. Here are two of my favourites:
Pillsbury Wine Company – 1012 N. Main Street
The brainchild of film director turned winemaker Sam Pillsbury, this tasting room is a friendly, unpretentious, artistic space. It's also the place where I first discovered Cards Against Humanity about a decade ago, long before it became a national or international success. For an elegant red to pair with food, you can't go wrong with 'Diva', a blend of Petite Sirah, Syrah, Mourvedre, and Grenache. I'm also a big fan of 'Wild Child Red', which is a bit lighter and perfect for a BBQ or alfresco Italian lunch. If you're after a white, the Viognier is exceptional. They do great live music most nights, so grab a good seat and stay for a while!
Burning Tree Cellars – 1040 N. Main Street
My favourite tasting room in Cottonwood, hands down. Burning Tree has some of the most creative and beautifully designed bottle labels I've ever seen, but what's inside is even more impressive. I'm a red girl, no question about it, and Burning Tree does some exceptional ones. My favourite is 'The Archer', an 83% Sangiovese blended with Cabernet Sauvignon that reminds me of some of the ultra-smooth reds I've had in Tuscany. It's easy drinking, but that doesn't mean it lacks complexity. For something more robust, 'The Poet' is a beautifully crafted French oak aged Pinot Noir.
Dinner:
Nic's – 925 N. Main Street
A haven of beautifully made Italian-American comfort food. Nic's has somehow managed to land itself in that perfect sweet spot between casual and fine dining. Everything about it, from the ambiance, to the decor, to the service, to the food itself, is refined yet relaxed – and I love it. From the moment you arrive, freshly baked bread is served up with a concoction of olive oil mixed with roasted garlic, chili flakes, and herbs. If, like me, you're a slave to carbs… you could easily make this your meal. Try to refrain. For a light starter to share, try the stuffed mushrooms. The spicy sausage mixed with the sweet balsamic reduction is heaven. When it comes time to choose your main course, remember that Nic's is revered for its steaks and seafood.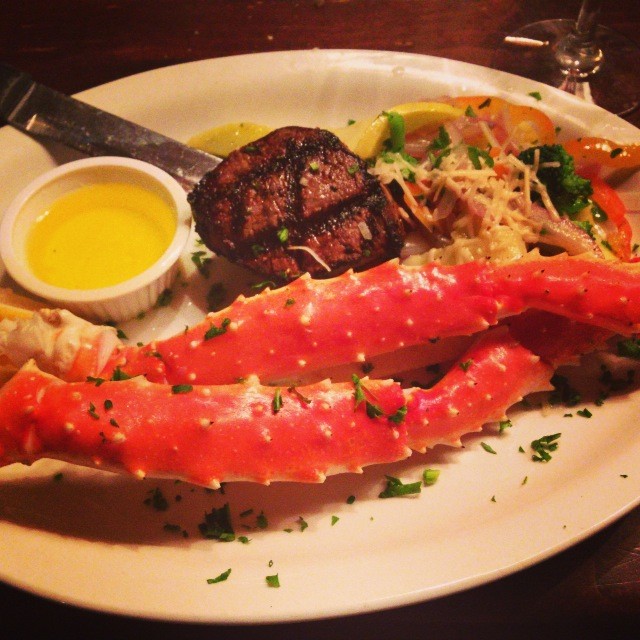 Filet and huge ass crab legs.
I love the charbroiled filet (rare, always) with a side of parmesan risotto. If you're feeling fishy, the salmon three ways is incredible. They've got an excellent wine list with lots of fine Italian options, and on Wednesdays all bottles are half price. You'll leave feeling stuffed, but it's worth it!
Have a beautiful time, and give Cottonwood my love!
xo Courtney