Until recently, the furthest South I'd been in Italy was Rome. Little did I know I was missing out on some of the country's best architecture, cuisine, and culture. Lecce, often referred to as the "Florence of the South", is a drop-dead stunning city filled with decadent Baroque architecture and, as if that wasn't enough to give you an architecture boner, a 2nd century Roman amphitheatre (because why not, this is Italy).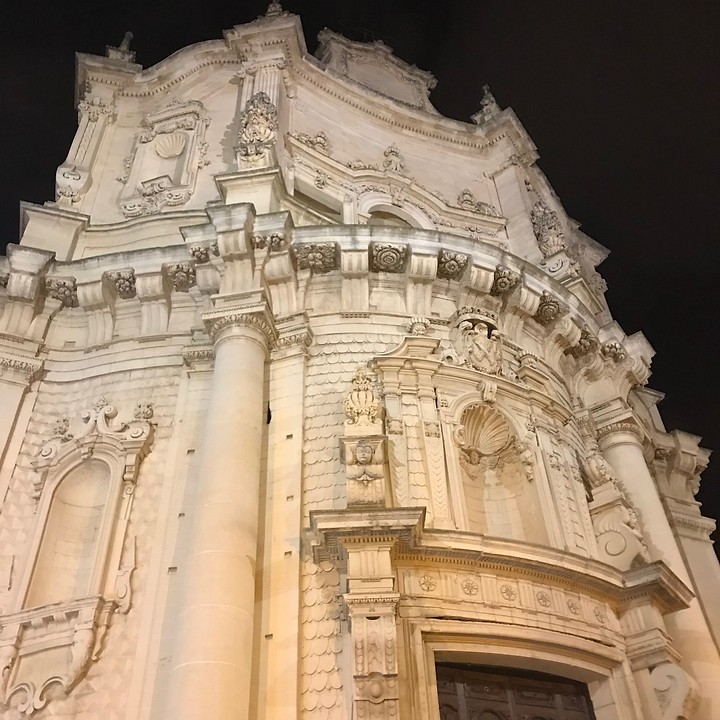 Lecce is one of the most important cities in the region of Puglia, which just so happens to be home to some of Italy's best cuisine… I'm talking burrata (omg burrata), my favourite pasta (orecchiette), decadent pastries, and the country's finest olive oil. And the best part? It's all cheap AF. You can literally eat like a God (a fat God) in Puglia for a few euros. Their markets have some of the best produce I've ever seen and don't even get me started on the cheese…
We don't always have time to cook though, especially when there's so many amazing buildings to stare at and weep after having a few too many glasses of wine. So, my friends, here are some of my favourite places in Lecce for food so good at prices so low you'll think it's all a joke.
Pizza & Co – Via Giuseppe Libertini, 39
Helllloooooo pizza. I know you're meant to go to Naples for pizza, but hear me out…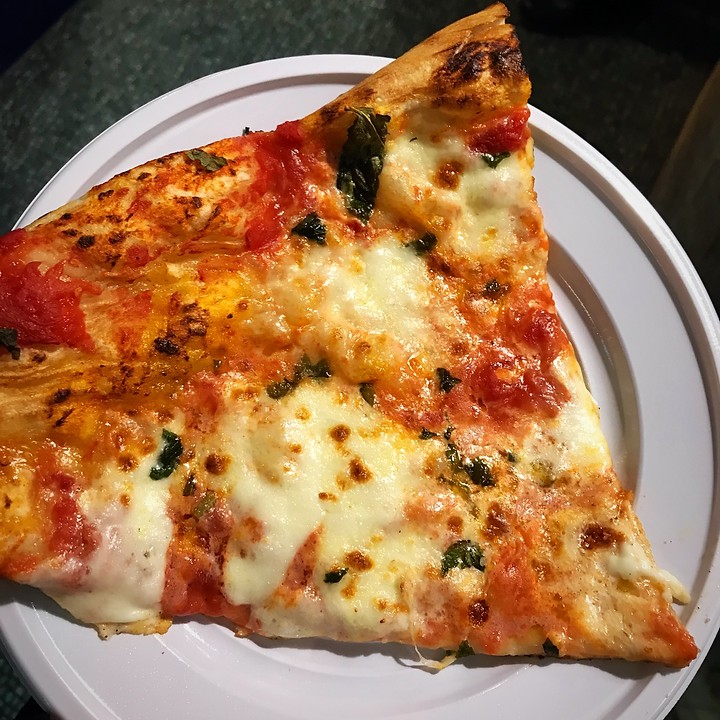 If pizza is heaven then Maurizio, the owner of Pizza & Co, is pizza Jesus. This man IS PIZZA. Pizza is him. He literally lives to pizza, and I am entranced. His happiness is utterly infectious, and he will chat pizza with you forever. I first visited Pizza & Co quite late at night, but Maurizio was willing to stick around to make me any kind of pizza I wanted. I grabbed a slice of his famous margherita as I knew I'd have time to come back to indulge in more pizza another day, which I did. There's a double sized chalkboard full of specials and seasonal pizzas which are all incredible. Anything with spicy Calabrian salami is amazing, ditto to any pizzas featuring Maurizio's crazy good pesto. A slice the size of your head will set you back a few euros max.
Come Vuoi Pane & Condimenti – Piazza Sant'Oronzo 34
Let's talk sandwiches. I am almost always an outspoken advocate for the abolition of sandwiches. I blame this on living in England for so long, where cold, beige triangles of sadness and questionable ingredients (tuna and sweetcorn, HOW DID THIS PLACE EVER HAVE AN EMPIRE?) are a lunch-time staple. I literally break out into a cold sweat when I have to attend any form of conference or office-based meeting, as large trays of aforementioned sandwiches will always be in attendance as well. Even posh British sandwich joints like Pret cannot rid me of my fear. Britain is, without a doubt in my mind, where sandwiches go to die. In Lecce, my faith in sandwiches was restored.
Come Vuoi Pane & Condimenti is a create your own sandwich mecca. When you step inside, you pick up a sheet of paper which lists dozens upon dozens of Italian cured meats, all of the cheeses, freshly made spreads, sauces, and infused cremas, and heaps of vegetables – both grilled and fresh. You literally just tick the box next to ingredients you fancy, and voila – your dream sandwich is yours.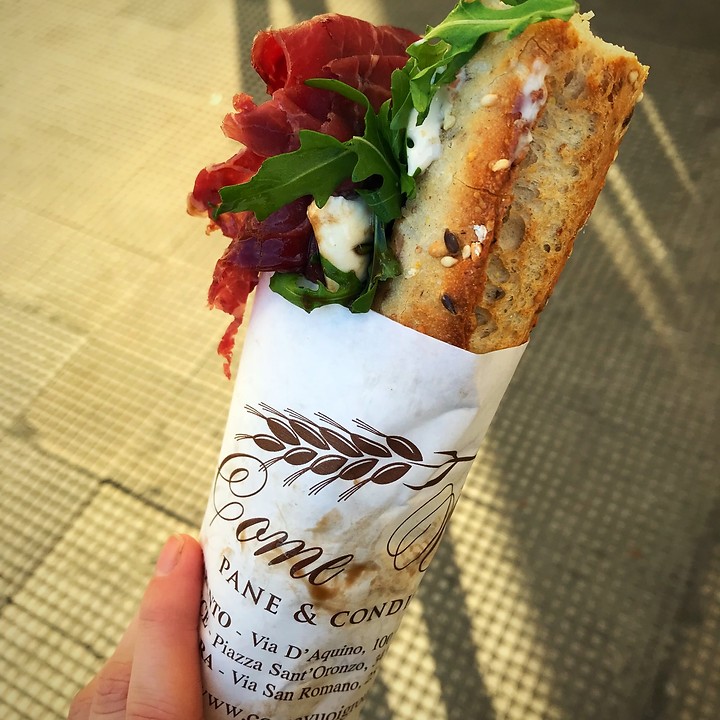 I got bresaola (incredible cured beef) with rocket, artichoke crema, a balsamic reduction, grilled aubergines, and stracciatella (the most amazing, creamy, stretchy cheese) on a multi-seed baguette. DEAD. I will never enjoy another sandwich more in my life: fact. Sandwich bliss can be yours too, for less than five euros.
Taverna del Salumiere – Via XXV Luglio 1/a
If you like meat and cheese, you're in luck. This little taverna does unreal spreads of speciality cheese and obscure charcuterie for prices that will make you want to fall to the floor and thank Christ. Every single thing they stock is incredible, but the salami with pistachios will change your life. The owner and staff are incredibly well versed in local and regional ingredients, and will go out of their way to help you find something special. Boozy bonus: they have a huge stock of reasonably priced wines by the glass or bottle.
Baldo Gelato – Via Idomeneo 78
There are plenty of places to get quality gelato in Lecce, but Baldo is at the top of my list. They've always got a huge rotation of flavours on, so it's worth asking what the seasonal ones are and trying to something different. Also, Lecce can get hotter than the deepest level of hell in the spring and summer so sometimes gelato for lunch is a reality. I won't judge you.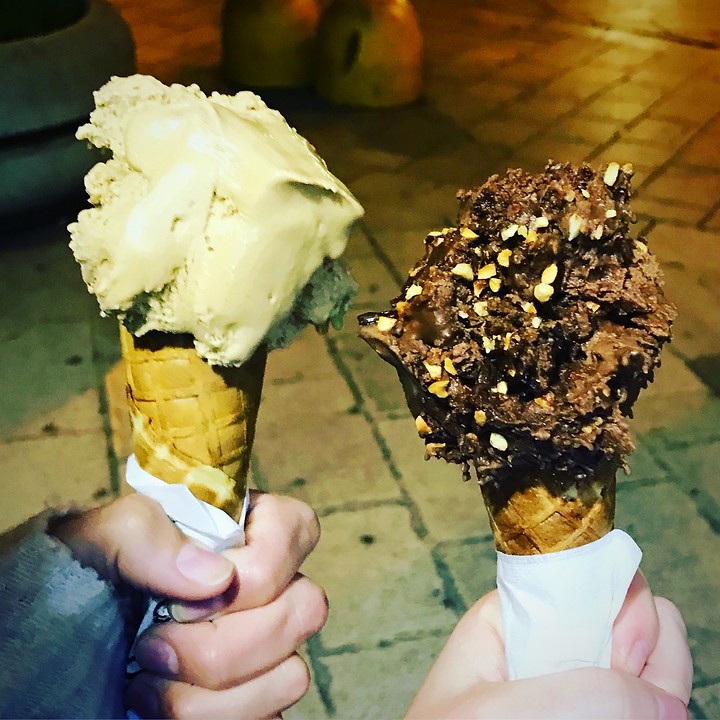 Everything is amazing, but my favourite was the Ferrero Rocher gelato (yep, you read that right). They're open until midnight most nights, so you have no excuse not to visit.
Buon appetito
xx Courtney