I arrived in Munich expecting lots of pretzels and lots of lederhosen, and I was NOT let down. What I love about Munich (besides being home to probably the only beer I enjoy) is the unwavering patriotism of the Bavarians. These are a people who are truly proud of their culture.
Besides lederhosen and pretzels, beer is probably on your list of classically Bavarian things. For that reason, beer is obviously on the agenda for any visit to Munich. I will take a moment to warn you now that Bavarians serve their beer by the litre, and they will all tell you that "Bavarian beer doesn't give you a hangover because it's so pure". THEY LIE, and I know this because I spent the vast majority of my day curled up into a ball of unrelenting sadness and pain after a night out touring some of the city's beer halls. What I also had was a grand tour of at least half of Munich's loo's, something you're likely to experience during your sightseeing/beer tasting unless you possess a very large bladder which is made of grade A steel.
Unfortunately, I happened to be accompanied in Munich by some of the heaviest rain I have ever experienced (and I live in England). I'm always one to defy nature and get out and explore regardless of the elements, but this was the kind of torrential downpour that somehow penetrates raincoats and wellington boots. You'll notice there aren't any photos of me in this post, and that's because:
1. You would recoil in fear, wondering how a human being could so resemble a drowned llama.
2. My friends would use them as blackmail for the rest of my life.
Exhibit A of weather below: (that's a park underneath the water)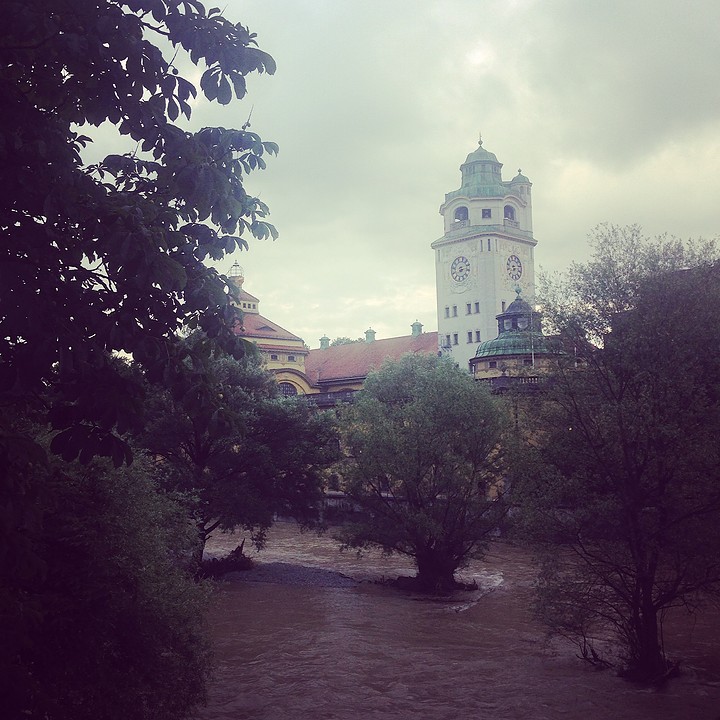 So, with the weather very firmly NOT on my side, I didn't cover as much ground in Munich as I would have liked to. But if you're off for a quick visit to this glorious city, I t
hink this guide will serve you very well indeed.
History:
Dachau Memorial – Alte Römerstraße 75, 85221
I know, I'm starting your day off with a visit to a concentration camp… but give me a moment to explain?
Let me begin by saying that this was not the way the day was meant to go. I have a good friend in Salzburg, and the plan was to drive from Munich in the morning and meet him in Salzburg for lunch and a 'Sound of Music' tour. Well… about 50km down the motorway the rain got so bad the car was hydroplaning and the visibility through sheets of water dumping from the skies was approximately 2%. Valuing my life, I decided it was time to turn back.
Now having lots of time to burn, a quick Google search of 'things to do near me' alerted me to the fact that very nearby was the site of the Dachau concentration camp. That's right kids, my morning went from 'Sound of Music' tour to concentration camp in less than an hour. Never underestimate the weather.
I'm not going to lie, this was probably one of the toughest days of my life. I'm a historian, and I've studied the Holocaust extensively, so I went to Dachau being fully aware of the horrors that occurred during this period and on this site. What I wasn't prepared for was standing in the exact location where some of the most atrocious crimes against humanity occurred. No documentary, photograph, or textbook could ever prepare you for what you'll feel when you're standing inside a gas chamber or walking into a barrack where hundreds of people were forced to live in obscene and inhumane conditions. The Dachau site moved me both to tears and to being physically sick. It's certainly not an easy day out, but I think it is essential for us and for future generations to see places like Dachau so that we can ensure that nothing like this ever happens again.
Tough morning over. On the upside, your day can only get better from here…?
Lunch:
Viktualienmarkt – Viktualienmarkt 3 – Open 10:00-18:00 most days
Viktualienmarkt (don't ask me to pronounce it, or any other word in German) is Munich's massive farmer's market/outdoor street food spot. This is the place to stock up on Bavarian specialities like pretzels and more pretzels (there's a guy that sells amazing ones for 50 cents), as well as local produce such as lovely cherries and weird white asparagus.
My favourite bit was a beautiful fruit/veg display called 'Leo's Obst-Standl'. I don't know who Leo is, but I can confidently tell you he has a type-A personality and that I bet we'd get along.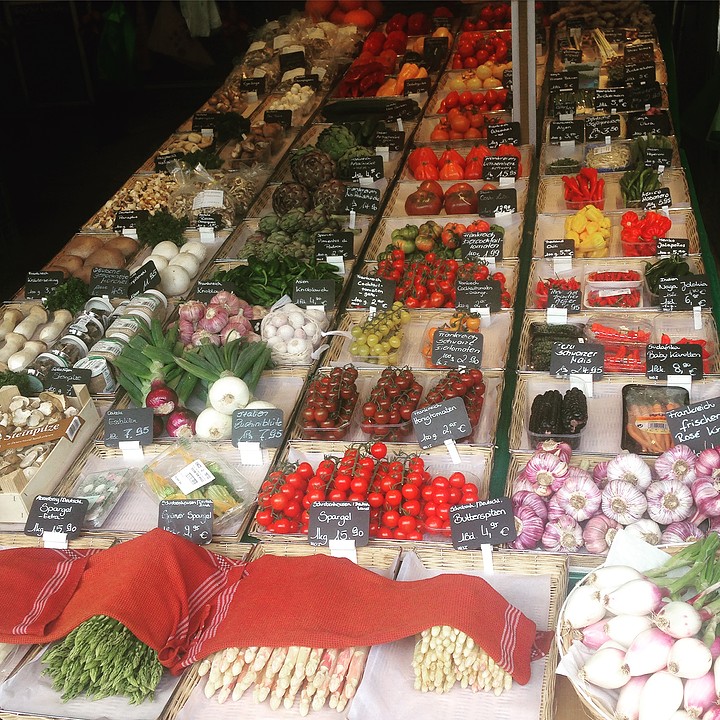 Sightseeing:
Marienplatz
This is one of Munich's main squares, and it's super old (1100's old). The square is surrounded by really important buildings that I could tell you more about if I hadn't spent so much time darting around the place looking for shelter from the rain. One of these important buildings is the New City Hall (below) which has a giant fuck-off massive clock called the Glockenspiel. At 11am and 5pm the clock puts on a 12-15 minute show, which is a lot to say for a clock.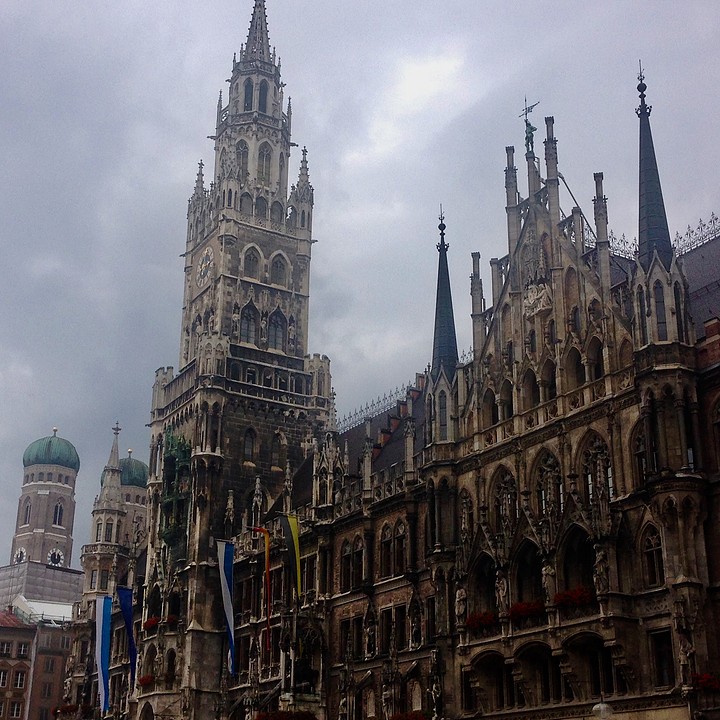 Englischer Garden
If you're blessed with decent weather rather than torrential downpour, I can recommend spending some time in the Englischer Garden, Munich's enormous public park. It's bigger than Central Park, has a huge beer garden in it, and is home to loads of sheep… so what's not to love? I'd attached photos but parks and torrential downpour don't mix well.
Dinner:
La Taqueria – Zweikbruckenstr 9 I know, I know… you're in Bavaria and I'm telling you to eat Mexican food, but hear me out:
1) Bavarian food can be lovely in its own right but I can't be the only one who tires of potatoes and gets nervous around strange meat dishes (I'm looking at you PORK KNUCKLE) so if you've already had your fill of the local cuisine, this is a god-send.
2) I love Mexican food and this is, hands down, the best Mexican I've had outside of Mexico or America. Truly good Mexican food is nigh on impossible to find in Europe, so take advantage when you can.
La Taqueria is right on the main drag that heads into Munich's central square, and they've got a little takeaway bar if you fancy grabbing a burrito and margarita to go. WOOOO day drinking!!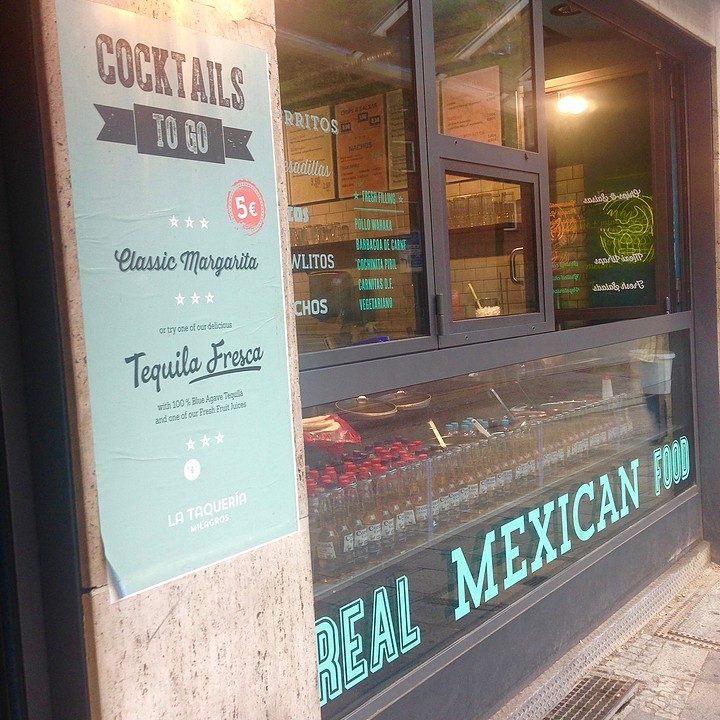 I chose to eat inside (did I mention the awful weather?), but when the food came I immediately forgot how dreary it was outside. I was blown away by the chicken enchiladas with mole poblano sauce which were (all at the same time) sweet, smokey, and spicy. Drinks are just as good with incredible margaritas for adults, and for your stupid boring kids a selection of agua frescas. Do yourself a favour and check this place out, it might just be the best meal you have in Munich.
Note: I am not implying Bavarian cuisine is not worth having, I just have a deep appreciation for Mexican food… and I don't eat knuckles. Soz.
Drink:
A quick guide to Bavarian beer:
Beer is the game in Munich and they play it well. I arrived knowing basically nothing about beer except that I much prefer wine over it, and was pleasantly surprised with both learning about and tasting the stuff. Bavarian beer was once regulated by a purity law called reinheitsgebot (these fucking words, I swear). The law said that only three ingredients could be used in the production of Bavarian beer – water, barley and hops. Over the years yeast was approved as another ingredient, and in the 1980's the law was dropped entirely, but most of the big breweries still adhere to these laws as a mark of both quality and heritage. If you know your juice, ignore this next blip. If, however, you're a beer moron like myself… here's a few tips:
Weisse – Wheat beer. Usually quite mild and easy drinking, this is a classic and pure beer that you usually can't go wrong with at the top breweries.
Dunkel – Dark beer. I don't know what else to say. It's dark.
Radler – A 50/50 mix of beer and lemonade (for Americans – Sprite). It's refreshing and slows down the pace at which you get drunk, but you'll probably be seen as a massive wuss by everyone around you. I am judging you from afar.
Helles – Light lager.
There's lots of other varieties, but let's face it… I was really drunk and I don't remember them.
Now that you know a few things about beer, here are a couple of the top spots to down it:
Augustiner-Keller – Arnulfstraße 52
Augustiner-Brau is one of the oldest breweries in Munich, and the only one which has managed to stay a family business and not get bought out by a huge company (respect). The Augustiner-Keller is their absolutely massive beer garden (the biggest inner city beer garden in the world) which lies on top of their cellars.
They serve various beers here by the litre, but for the most traditional approach go for the Edelstoff which is served from giant wooden barrels. The guy serving me was without a doubt half human and half oversized ogre. When the barrel ran out mid-pour he produced an enormous wooden mallet and, with one strike, smashed the tap off the barrel so he could pop it into a new one. Smile and stay on his good side?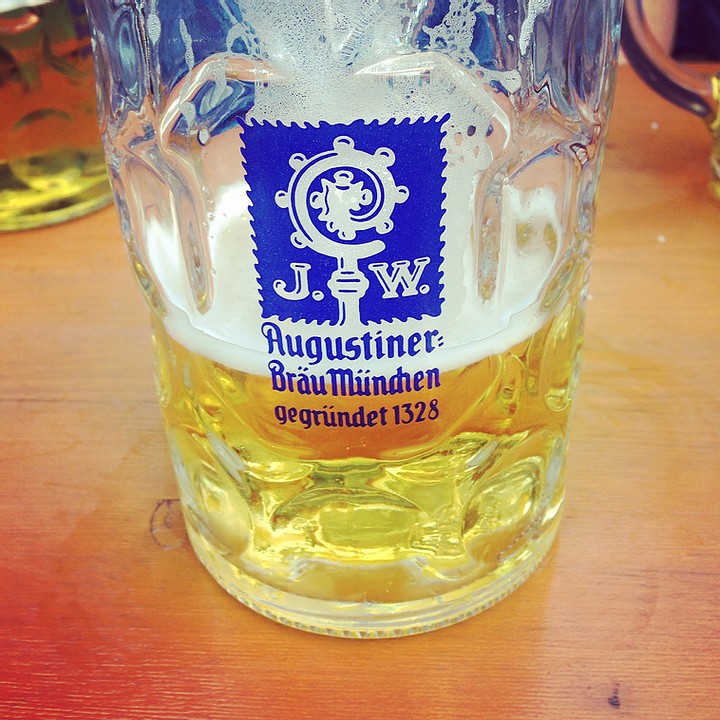 If you get too drunk or rowdy at Augustiner-Keller they'll kick you out, but ask someone who works there about the crazy hand gesture you can do to be allowed to remain on the grounds no matter what your state is. I had a seriously hard time managing it while still relatively sober, so I'd imagine it's impossible drunk… but it's good fun to practice anyway!
Hofbräuhouse – Platzl 9, 80331
Hofbräuhouse is probably the most famous of the Munich breweries, and today it's owned by the Bavarian government. It used to the brewery for the Royal Household and has a pretty interesting history that's worth reading about while you're downing your beer.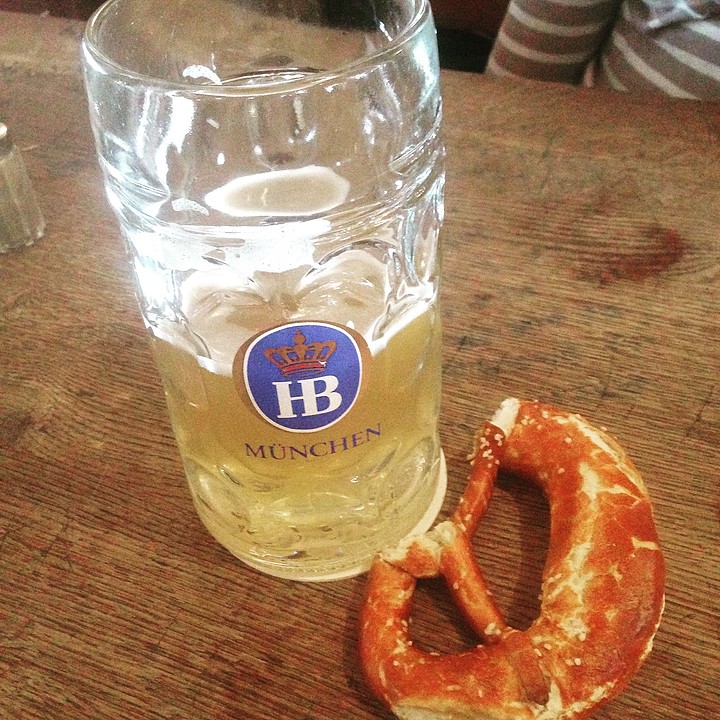 It can get a bit touristy inside the beer hall here, lots of "me with my stein of beer" selfies and so on, but the atmosphere is great and they've got ridiculous oom-pah music going on at all hours of the day. The food is served in positively gigantic portions so I'd recommend sharing, especially considering the amount of liquid you'll be consuming alongside it.

Bye bye and remember to drink a bit of water in between your litres of beer (you'll thank me).
Happy peeing.
xx Courtney