I really love pesto. Like…. really love pesto. So when I was looking for a good day trip from Milan and I saw Genoa on the map, I basically ran to the station to book my ticket (and by ran I mean I took the Metro).
Genoa (Genova for my Italian friends) remains relatively untouched by foreign tourists. It's got a massive aquarium, the largest in Europe, that attracts a lot of Italian schoolchildren and families, but as far as I could tell I was the only idiot wandering around Genoa who couldn't speak fluent Italian (in my defense I had been practicing nonstop!).
Genoa has a proud past and, like Venice, was once a vast Maritime Republic which controlled huge stretches of land. Even today, Genoa remains Italy's largest port. The grand buildings and churches that line the streets of Genoa are a testament to the wealth of the old city as one of the most important ports of trade in all of Europe.
I've been told there's a long-running Northern Italian joke about "getting the Genovese welcome"… essentially meaning there isn't one. A few friends of mine tried to explain it to me, and from what I can gather it would seem as though there's rumours swirling about the Genovese having a rather curt nature (like the reputation New Yorkers have from other Americans). I experienced a bit of this in my time there, but for me it just adds to the charm. What I also had were some incredible conversations with locals that were beyond friendly, so embrace the Genovese welcome and don't let a few blunt interactions get you down.
SIGHTSEEING:
Palazzo Reale – Via Balbi, 10
I'm a big history nerd, and who doesn't love a good palace? The Palazzo Reale (Royal Palace) is Genoa's answer to a mini-Versailles… it's even got it's own Hall of Mirrors! If you're looking to learn more about the grandeur that was once Genoa, this is the perfect way to start your day.

The great Baroque palace was originally built in the early 1600's for the Balbi family. Another branch of the Balbi's have a palace on the Grand Canal in Venice. Jealous? Me too. The Balbi's were clearly one of the most prominent families of the Italian Renaissance, and this palazzo was their way of displaying their wealth and power to Genoa and beyond. Over the years the palazzo passed hands to the wealthy Durazzo family, who extended the palace and designed many of the interior features you see today, including the Hall of Mirrors. When the Durazzo family's fortune eventually waned, the palazzo was purchased by the Royal House of Savoy in in 1823.
It may come as a surprise to some people to learn that, just a couple of hundred years ago, 'Italy' as we know it was not a unified country. Various city-states such as Milan, Venice, and Naples had their own rulers, whether they be Kings or Dukes. In 1861, these states were unified into one country in what is known as the risorgimento (rising again). The House of Savoy, previous rulers of the Sardinia region, became rulers over the new Kingdom of Italy until 1946 when the constitutional monarchy was dissolved in favour of a republic.
Even if you're not interested in history, the Palazzo Reale offers dramatic views over Genoa's port from it's grand balcony. The interiors of the palace are breathtaking and sumptuous, full of velvet, chandeliers, frescoes, and gilding. I nearly had to be dragged out. If you're into art there's also an amazing collection here, with masterpieces from Tintoretto, Van Dyck, and Bassano… to name a few.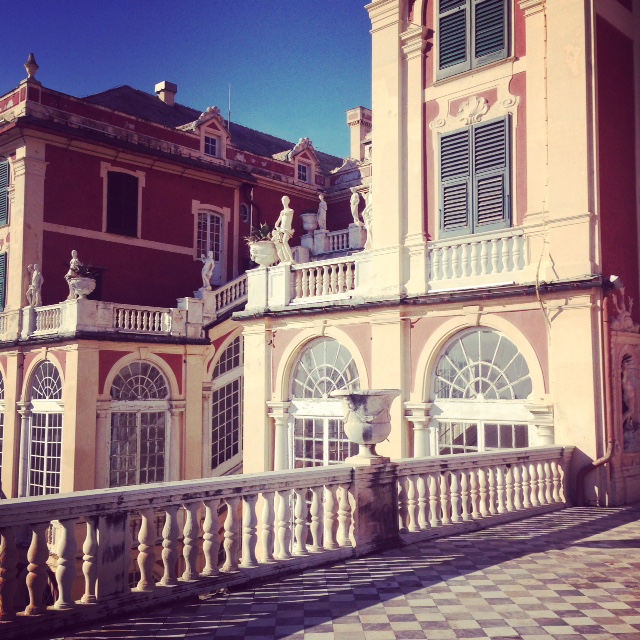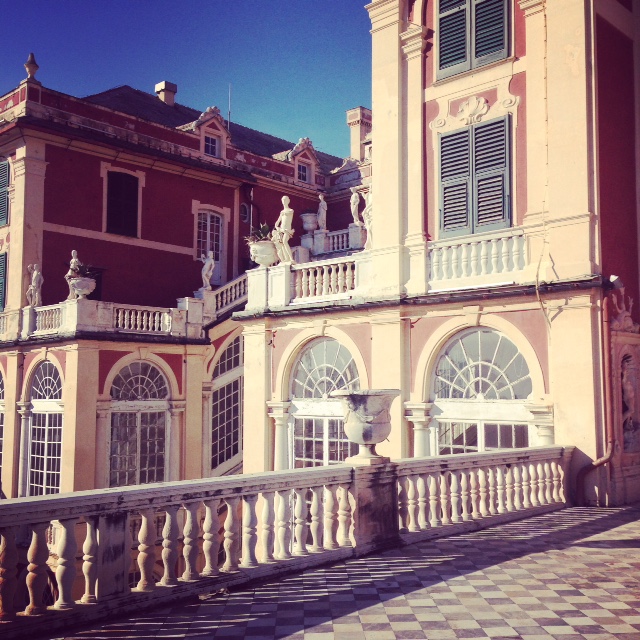 Many of the staff at the palace speak perfect English (amongst many other languages) and are more than happy to answer any questions you might have about the palace or about Italian history in general. And, at just €4 for entry, it's a wonderful and very wallet-friendly introduction to Genoa.
Stroll along the Porto Antico
The Porto Antico is Genoa's old port and it's always a great place to spend a few hours, especially if the weather's nice! There's usually some markets going on selling food, antiques, and general bric-a-brac. In the summer, pop up cocktail bars open up alongside the water and you can sit out with a pina colada and enjoy watching the boats sailing in and out. If you're into luxury, take a walk past some of the bigger marinas. I saw dozens of absolutely incredible yachts and super-yachts moored up for the weekend. There's also a massive replica of a 1600's pirate ship called the Galeone Neptune just past the aquarium… I imagine this would go down very well with children.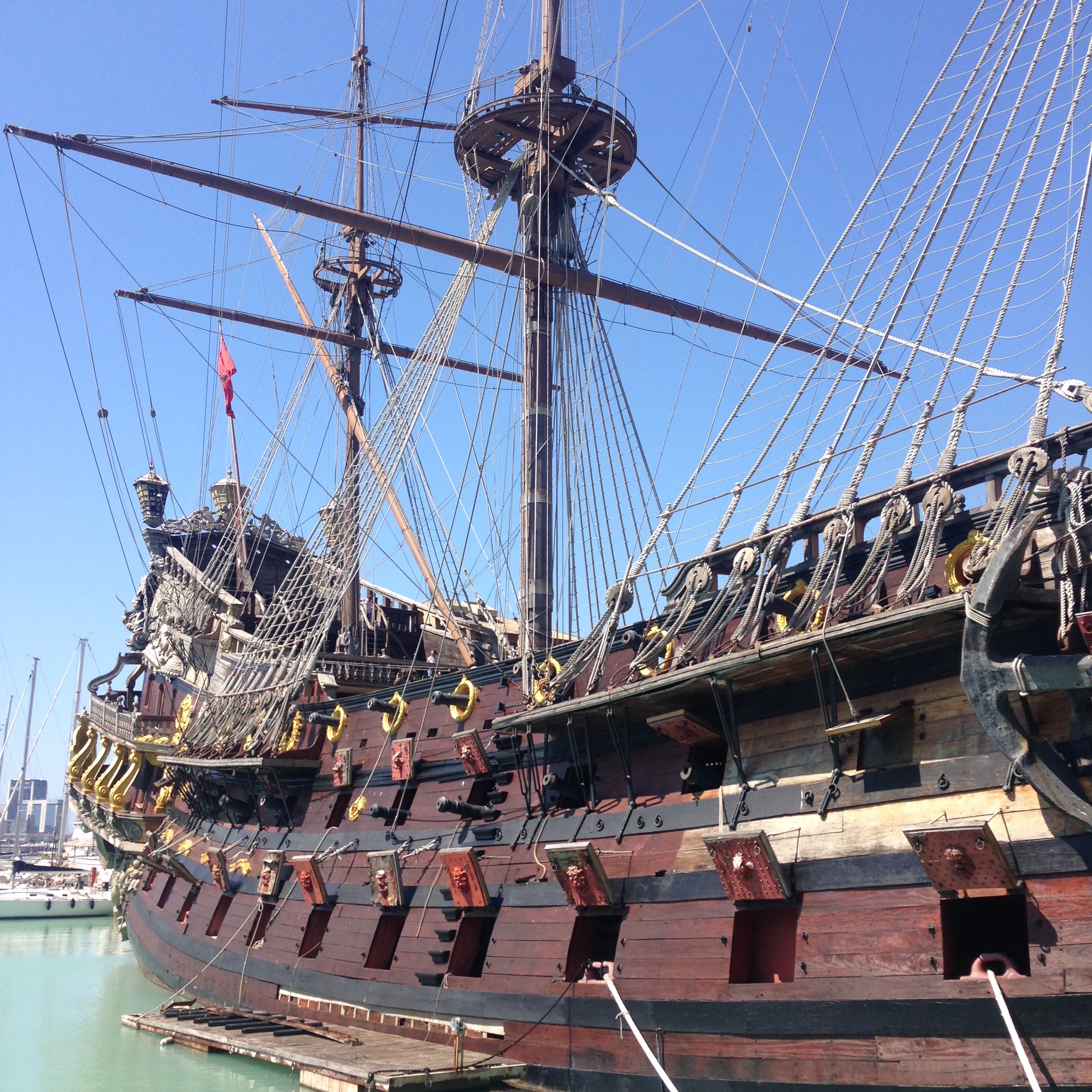 Grab a slice of focaccia on the go
Focaccia – that lovely, airy, Italian bread was invented right here in Genoa. You'll find bakeries all over the city selling slices for cheap, but one of the best (and oldest) spots is Antico Forno della Casana at 17 Vico della Casana. The classic focaccia is simply flavoured with sea salt (and sometimes rosemary), but a slice slathered in pesto and is always a good choice too.
LUNCH:
E Prie Rosse – Via di Ravecca, 54
I cannot tell you how happy I am to have discovered this hidden gem in Genoa. I wandered around town for a while with lunch on my mind, until I stumbled upon a little alley and saw loads of people lingering around this place. All of the patrons seemed to be local business men, and as an American girl on my own I felt like I was breaking some sort of secret code by even walking in. This brings me to an important lesson I've learned while traveling: never be afraid to step into a clearly "for locals only" restaurant. I'm not sure if this mantra applies everywhere in the world… but in Italy I have never, ever, been made to feel unwelcome in any of the amazing little places I've found that are not used to tourists randomly stumbling in. If I allowed shyness, fear, or a language barrier to stand in my way, I would have missed out on some of the best meals of my life, including this one. Walk in like you mean it.
Prie Rosse serves up classic Genovese cuisine in a laid-back trattoria atmosphere. As I sat down I began to fear I was going to get a serious Genovese welcome from the staff, but to my surprise a (rather attractive, ahem) waiter saw me struggling with my Italian and came over to explain the finer details of the menu to me.
I asked for a glass of the house red and watched as the waiter walked over to another table and brought me their half empty bottle… the other table didn't even flinch. I was obviously looking a bit confused, so he explained to me that the house rule is you drink as much as you want and just tell them how much you've had at the end. Like an honesty box…. but with wine. I began to wonder if I had actually been murdered in that alleyway and this was my own personal heaven. Every table seemed to be taking part in this, and wine bottles were constantly being moved around the restaurant.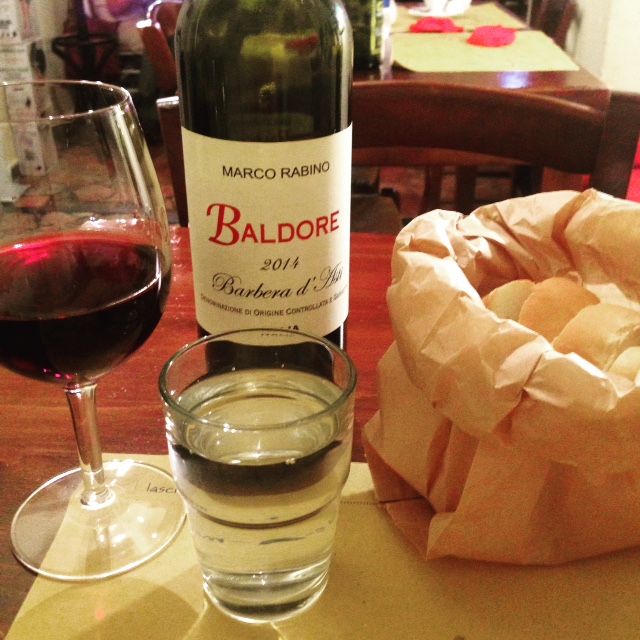 I was already in love when my meal arrived, a plate of fresh pasta with homemade pesto sauce, local green beans, and small chunks of potato. This is the classic 'pasta alla Genovese', and it was obscenely delicious. I've made fresh pesto at home before, but this had something else to it. After some coercing, I got the waiter to tell me the recipe. There's the obvious basil, pine nuts, olive oil, and garlic, but the secret is that the Genovese use a local hard ewe's milk cheese… not parmesan. The closest thing you're likely to find to this if you want to try it out at home is top quality pecorino.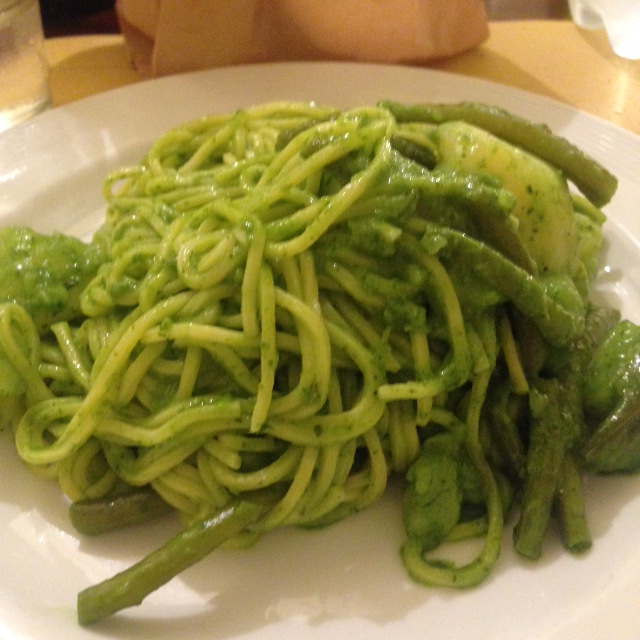 I was stuffed and a bit tipsy after my pasta, but was instructed (in the true Italian fashion) that I would be having dessert whether I wanted to or not. I went for the lightest option, peaches and cream, and combined with an espresso and a tiny coconut macaroon it was the perfect finish to my meal.
The total bill came to less than €20 for two courses and at least three very generous pours of house red. I left feeling like a thief. A bloated, drunk, happy thief.
DRINK:
Mescite! – Via di Sant'Agnese, 25
I'm getting into a habit of discovering amazing places that are down weird back alleyways (sorry Mom), and Mescite is yet another example. If you're a bit of a wino like me this place is a fantasy come to life, although it can be a bit tricky to find so you might want to get your Google maps out or ask a local if you get turned around.
Mescite serves up amazing local wine straight from big vats that are inside the shop. You can sit down and have a glass for around €1 (I'm not kidding!), or ask for them to fill an unlabelled bottle for you to take home at the insanely reasonable price of about €3-4. Later in the afternoon and during the evening they serve up local meats and cheese to accompany the wine, and it's a great place to just relax and unwind after a day of sightseeing in Genoa.
Cin Cin!
Courtney