Oh, Rome – you really do know how to make a girl swoon… and it's not just those flirty, fit Roman boys! 'La Citta Eterna' is home to – I'm going to say it – the best pasta in Italy. Being the total slut for pasta that I am, I had to go on a search for the city's best pasta dishes, and I happily sacrificed my waistline for this research which I'm about to share with you.
Before we dive into my list of MUST TRY plates of pasta in Rome, let's talk about what the different classicly Roman pasta dishes consist of:
Cacio e Pepe – Cacio e Pepe is one of those "that looks easy" recipes that's actually near impossible to perfect at home. The sauce is literally just a combination of pasta water, pecorino romano cheese, and ground black pepper, but these three simple ingredients (when expertly combined) create a silky-smooth cheesy sauce with a kick. It's usually served with tonnarelli (a kind of thick, square-shaped spaghetti) aka spaghetti alla chitarra.
Amatriciana – If you're a bit cheesed out, Amatriciana is the only classic Roman pasta with a tomato sauce base. Paired with crunchy, oily guanciale (strips of pigs cheek that look like pancetta, but taste a thousand times nicer) it turns into a decadent fatty tomato-y sauce with lashings of pecorino cheese that you'll want to probably lick straight off your plate.
Carbonara – Praise be for this beautiful pasta, probably my favourite of all of the Roman pastas. The sauce is made with eggs and cheese emulsified with starchy pasta water to create a bright yellow smooth cheesy coating, mixed with bits of that incredible guanciale I've just been talking about.
Gricia – Pasta alla Gricia is similar to Carbonara, but without the egg! It's still got the richness and bite of the guanciale and a generous grating of pecorino cheese, but it feels less heavy than it's egg-yolky Carbonara sister. When made with excellent guanciale, it's unbeatable.
Now that we've covered the basics of Roman pasta, here are my favourite restaurants in the city to indulge your deepest, darkest, pasta fantasies.
Tonnarelli Cacio e Pepe
Al Pompiere
Al Pompiere is, hands down, my favourite restaurant in Rome. It's classy as hell, well priced, and you're always guaranteed exceptional food. It's proper old-school Italian – think white linen tablecloths, well-dressed waiters, and no-nonsense. Their Tonnarelli Cacio e Pepe is legendary, and often it's one of the first things I eat when I arrive in Rome. The plump tonnarelli pasta (kind of like a square-shaped, thicker spaghetti) covered in a silky cheesy coating and lashings of spicy black pepper is so simple, yet so divine.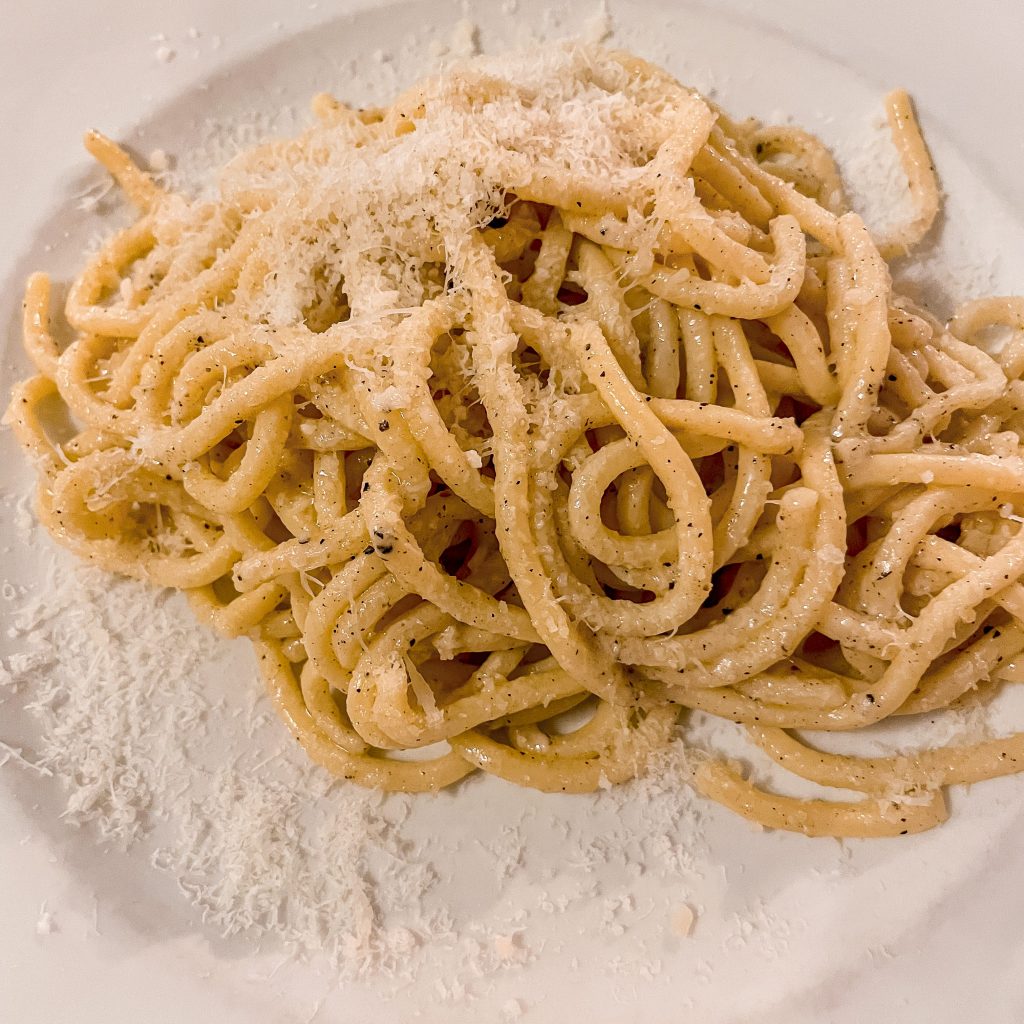 Their menu is full of other traditional Roman dishes and you'd be a fool if you didn't order a carciofi alla giuda (fried artichoke) to start. If you like crisps (potato chips, Americans) it's got a similar salty, crunchy texture until you get to the buttery rich artichoke heart at the end – omfg.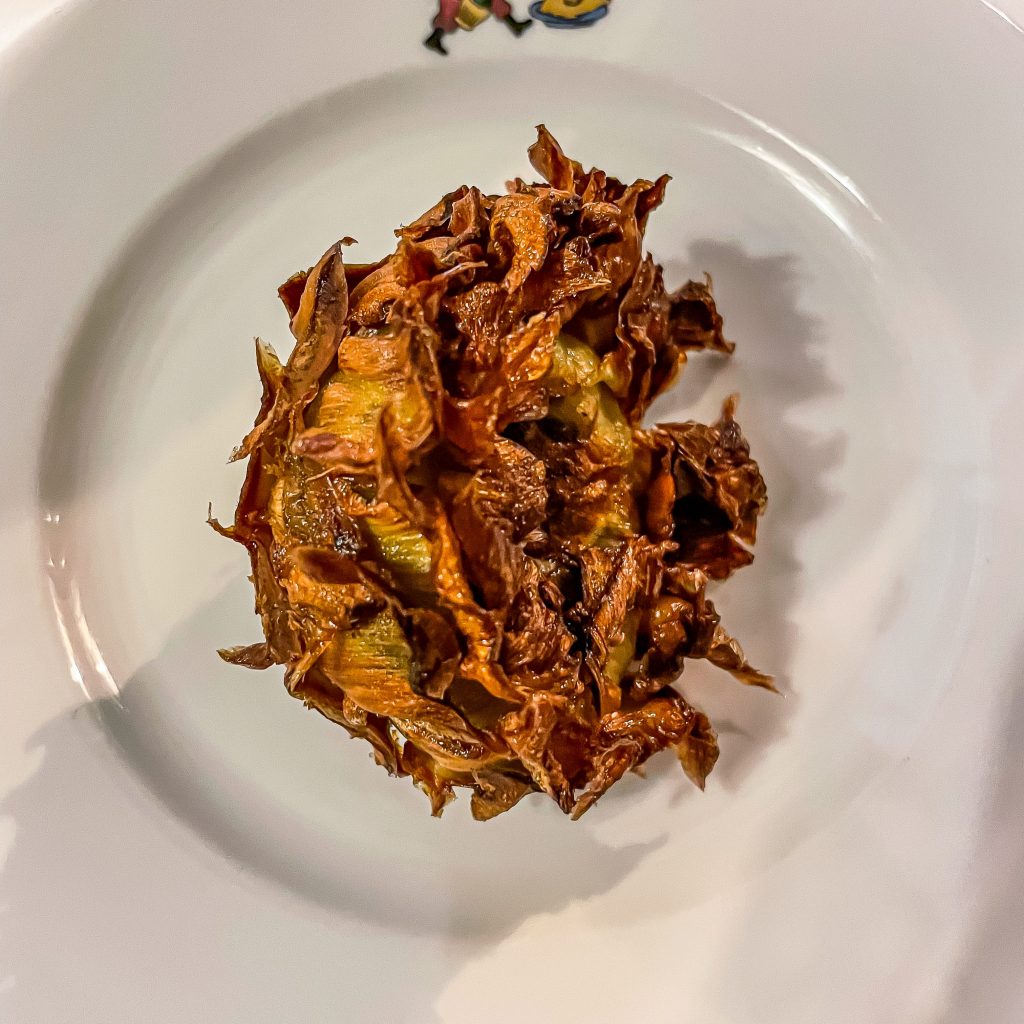 Strozzapreti alla Carbonara
Osteria da Fortunata
I discovered Osteria da Fortunata on my most recent trip to Rome. It was boiling hot outside and I was ravenous, but I refused to stop walking until I found somewhere that looked good. When I saw two ladies in the window of Osteria da Fortunata making fresh pasta by hand, I knew I had struck gold.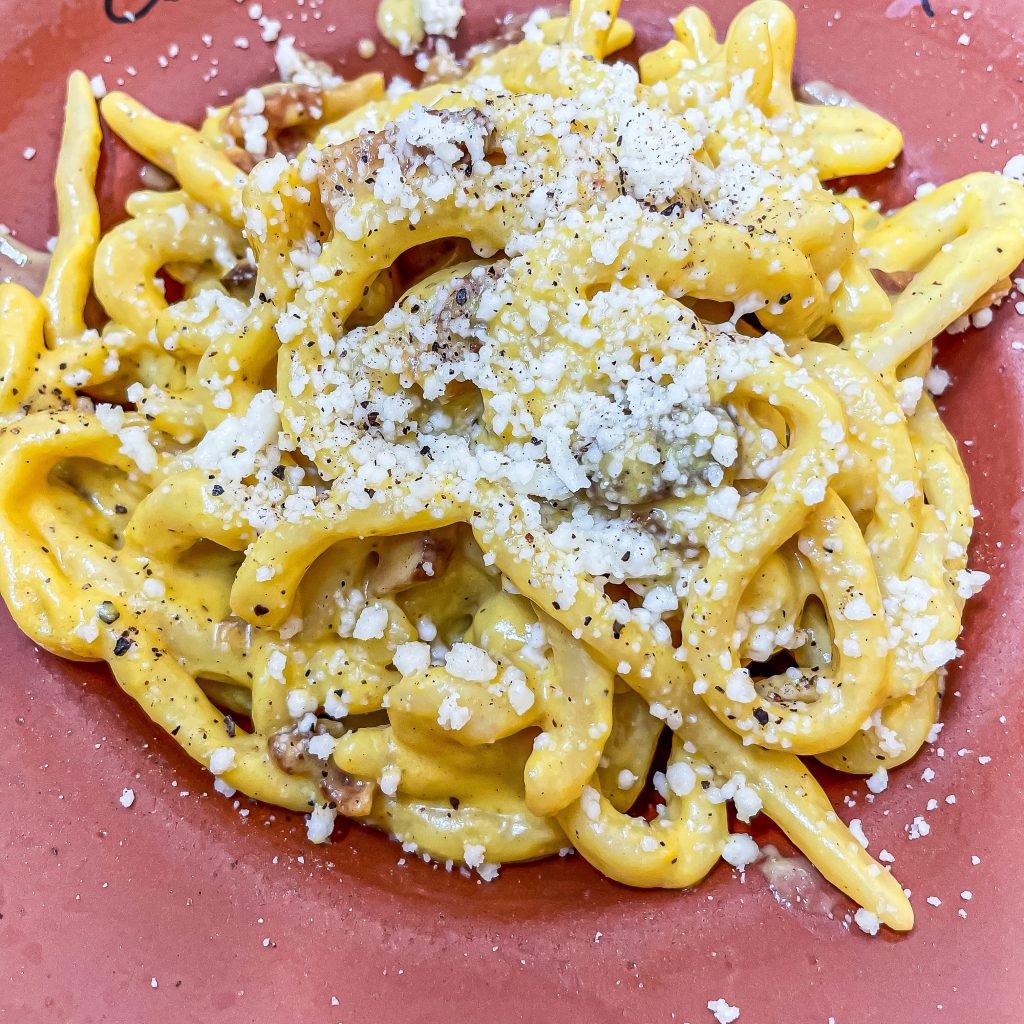 Speaking of gold, their carbonara is the most beautiful golden-yellow thanks to the richly coloured yolks of the fresh eggs they use to make it. Strozzapreti means priest stranglers, and legend has it priests would gobble this delicious type of pasta down so quickly they'd choke. I don't recommend choking on this pasta but let's be honest, death by pasta inhalation is probably a decent way to go.
Tonnarelli Amatriciana
Tonnarello
Tonnarello is a classic haunt in Trastavere – an area of Rome packed with incredible restaurants, bars, cobbled roads, and old houses with flowers spilling down the sides of balconies – literally the dream.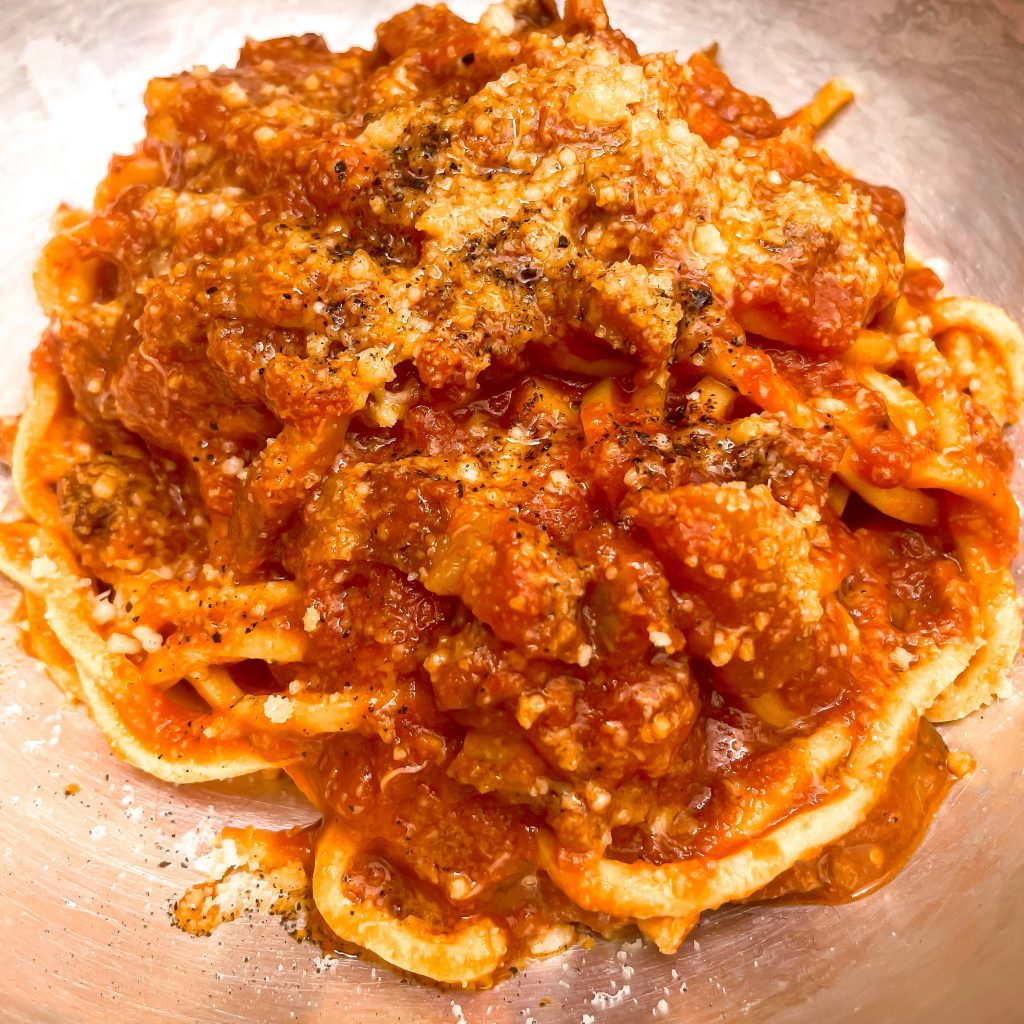 A good friend of mine always refers to good Amatriciana as being "juicy as fuck" and this, my friends, is just that. The cooked down pork fat and crunchy guanciale bits meld with the tomatoes and cheese to create a rich, sloppy, dirty pasta dream.
Trust me when I saw you'll want to make sure you ask your waiter for a little basket of bread to "fare la scarpetta" (literally 'make a little shoe', but this means mopping up your sauce with bread at the end of your meal!).
Fettucine Alfredo
Alfredo alla Scrofa
Okay, this one might get me in a bit of trouble with the Romans – because Fettucine Alfredo isn't seen as a 'classic' Roman pasta dish, but stick with me…
Even though you won't find Fettucine Alfredo on 99% of menus in Rome, this dish was actually invented in the city before it became famous across the pond in America. Legend has it Alfredo created the dish (pasta with loads of butter and parmesan) for his wife when she was unwell to entice her to eat. She loved it so much that it ended up on the menu at his restaurant. Shortly after, some American actors who were visiting Rome tried it at Alfredo's restaurant, and were so mad for it that they asked all of their local Italian-American restaurants back home to make it too.
In any case, you can still have this v simple but v delicious pasta at the place where Alfredo first served it! The waiter makes it fresh at your table side, tossing the pasta with heaps of butter and parmesan until it forms a rich sauce. The restaurant itself is gorgeous, too, with photos of celebrities who have visited over the years lining the walls.
Rigatoni alla Gricia
Velavevodetto ai Quiriti
Velavevodetto, while not bang in the centre of Rome, is a place I truly think you can't miss if you're a pasta fiend. The restaurant is built right into the base of Monte Testaccio, a literal ancient Roman trash heap – but let me explain! Monte Testaccio is a huge mound of broken, discarded Roman amphorae (the big clay pots they used to store things like olive oil!). The Romans strategically dumped them here, creating an artificial hill.
The restaurant itself is quite big, including a beautiful terraced area outdoors. That being said, it's popular af, so you'll almost always need to book in advance! The best thing about Velavevodetto is that they'll do 'half portions' of their pastas, so you can be a carb loading lunatic and get more than one kind of pasta at a time!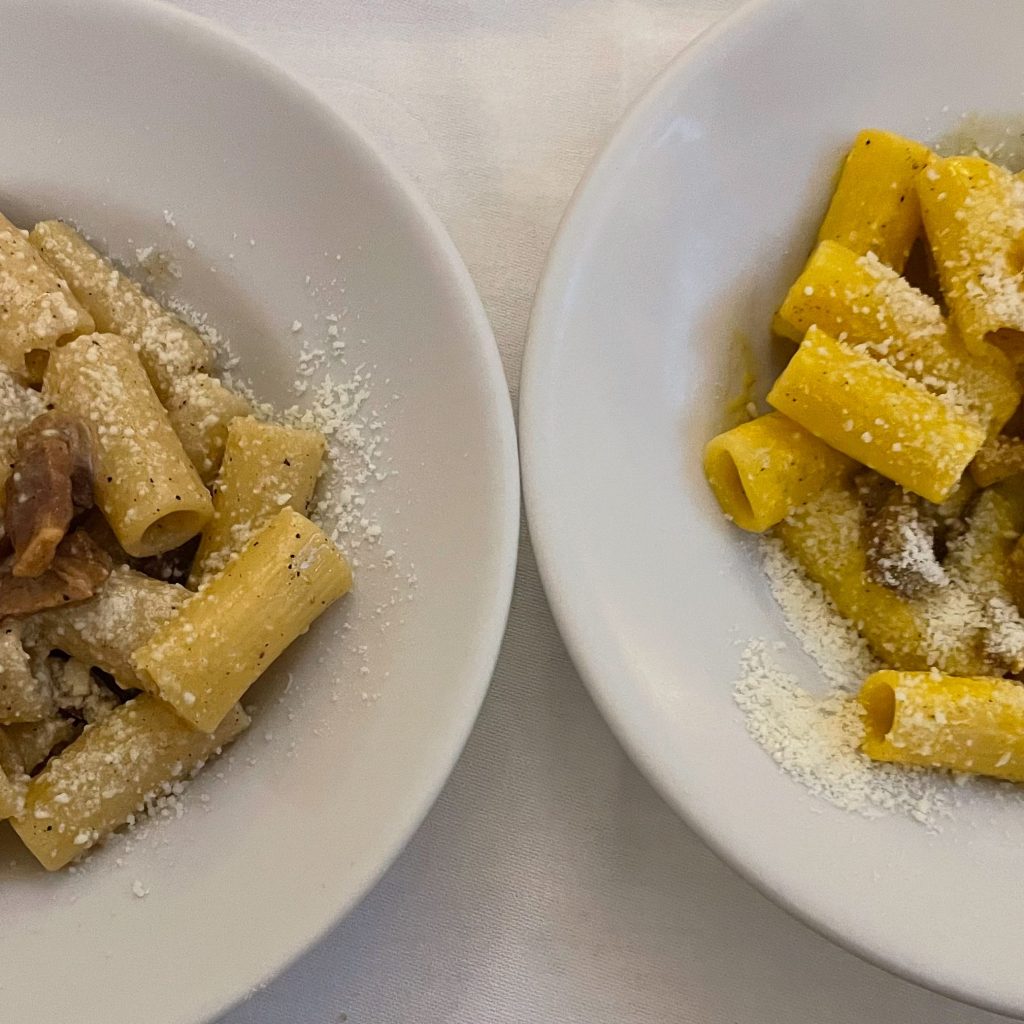 When I visited last, I got 1/2 Rigatoni alla Gricia (left) and 1/2 Rigatoni Carbonara (right). They also do a gorgeous Cacio e Pepe, and their wine list is HUGE. It's perfect for a date night, and you can stroll down to/from the restaurant viia the Tiber River, an excellent opportunity to burn off some of those pasta calories.
Is anybody else hungry now? I am. HAPPY CARB LOADING.
xx Courtney