Ortigia is a magical little island, connected to mainland Sicily by a tiny bridge. Once inhabited by the Ancient Greeks, it has an illustrious past and unique traditions. I could wax lyrical about this mini paradise endlessly… I loved Ortigia so much after the very first day there that I cancelled multiple plans in Sicily to stay for longer.
The island is, unsurprisingly, a haven for seafood… and I've taken the guesswork out for you by eating half of the entire ocean in less than a week in order to find the best places. If you're not crazy about seafood you're insane… but have no fear, the first place on my list will be right up your street.
Now mangia mangia mangia…. here are five of my favourite restaurants in Ortigia. 
Timilia
Via Tommaso Gargallo, 24 (Dinner only, closed on Monday)
Before visiting Timilia, I had never heard of 'pinsa', what some hail as the precursor to pizza. It's based on an Ancient Roman recipe, and the crust is very gut-friendly thanks to the inclusion of more digestible grains such as millet, spelt, and barley. The result is light, crunchy, and delicious.
Timilia was recommended to me by a local at one of my favourite bars in Ortigia, Jolanda, and I'm so glad I gave it a try. Timilia's menu includes a range of normal pizzas, with the 'pinsa' base being an option on all of them. You'd be a fool not to try it! I went for a pinsa topped with a carb-loading combination of potatoes, onion, black pork pancetta (so good), and allllll of the cheese.
I couldn't manage the entire pizza…. or the entire bottle of wine I ordered for myself (what?) so they happily gave me a cork and a box to take the rest home. I was very pleased to have that half pizza in the fridge the next day when I was a bit hungover.
The wine menu at Timilia is fantastic, but if you're a beer person you'll fall in love with their enormous list of craft beers – many of them being made locally! Make sure to request a table in their courtyard, it's particularly romantic in the evening.
Le Vin de l'Assassin Bistrot
Via Roma, 115
(Dinner only)
I stumbled upon this restaurant after noticing their very Instagram-friendly courtyard en route to the beach one morning. The food is Sicilian with a French flair, and although it's a bit pricier than some of the island's other restaurants, it's definitely worth the slight splurge.
I highly recommend the grilled octopus, and I'm told they do very good steaks as well. Lots of people were ordering the gazpacho, so I reckon it's good – but I'm super weird about cold soup. I had the tarte tatin to finish… completely unnecessary as I was stuffed, but delicious nonetheless. Make sure you get a table in the courtyard!
Locanda Maniace
Via Castello Maniace, 52 (Dinner only, closed on Monday)
I hit the jackpot on my first evening in Ortigia at Locanda Maniace, a gorgeous little restaurant right by the water that I came back to twice during my stay. The decor, atmosphere, and food are all exceptional… but with very, very reasonable prices and the most friendly, knowledgable staff.
I started off my meal with the most delicious fried baby squids in a spiced, honey-laced batter. The waiter paired it perfectly with a chilled glass of zingy Grillo – an incredible Sicilian white wine.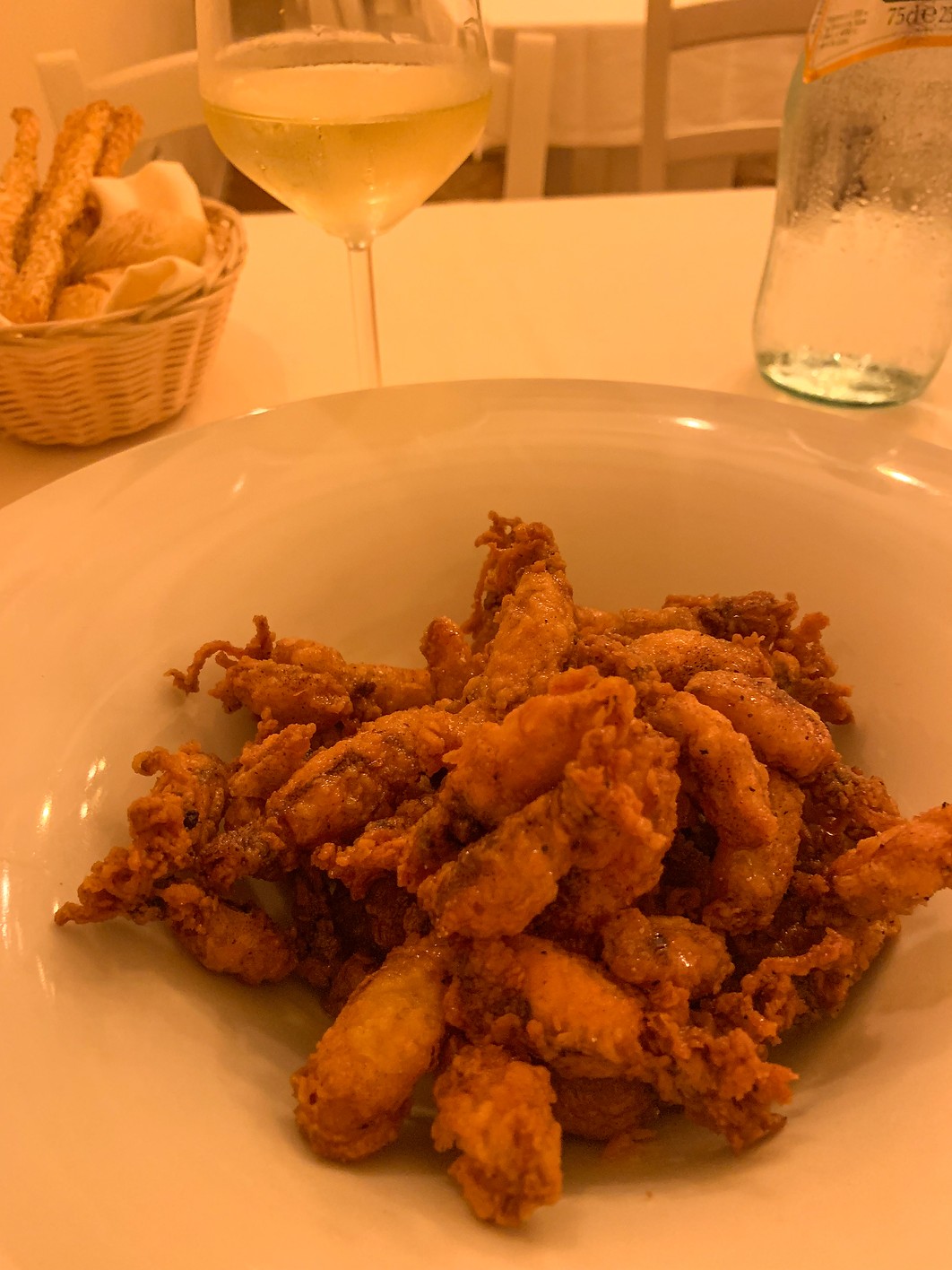 Next up was a plate of perfectly cooked spaghetti with a prawn ragu… and, let's be honest, another glass of Grillo.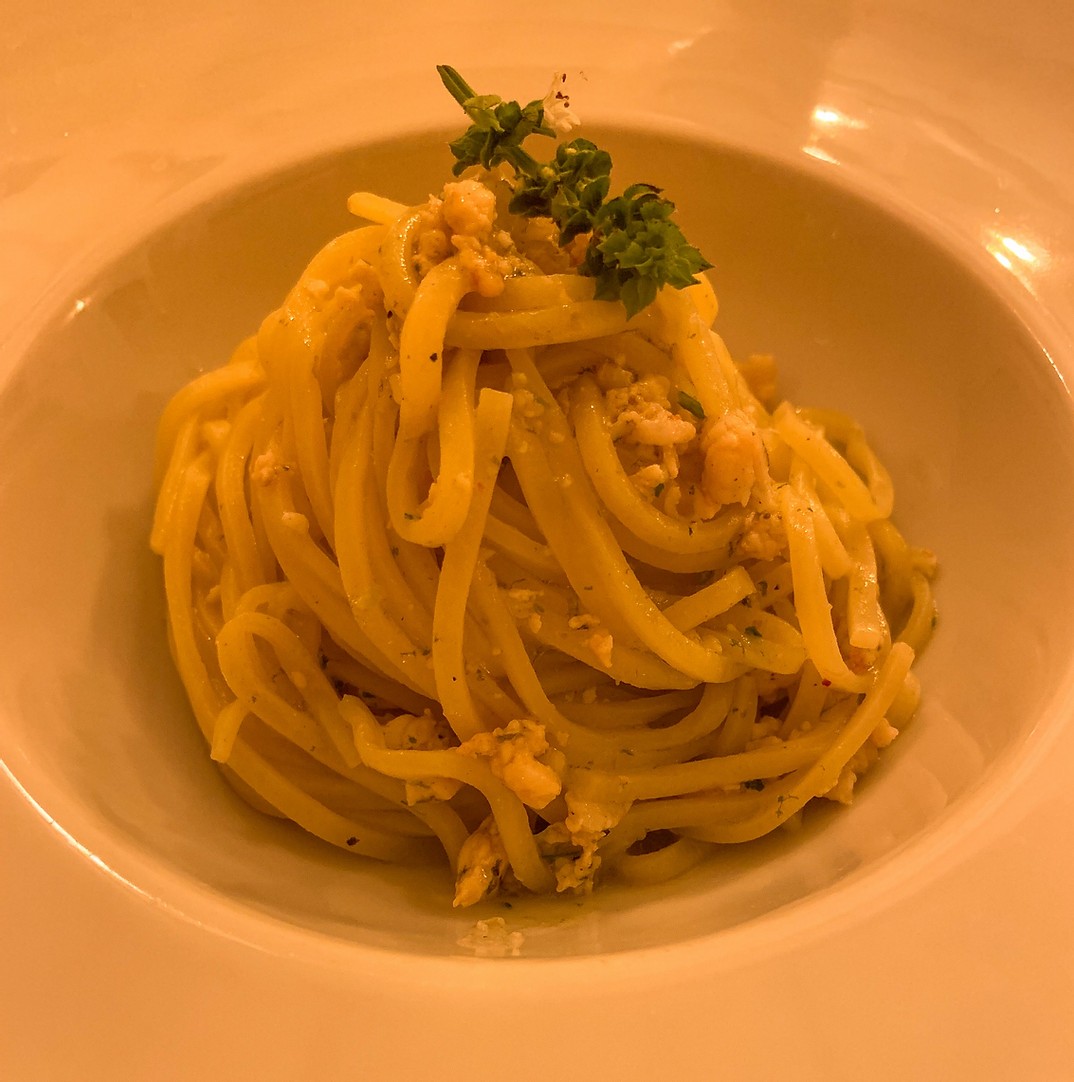 My meal was rounded off with one of the best desserts I've had in my life, a plate of deconstructed cannoli. Perfectly spiced little domes of ricotta were topped with fried shards of cannoli shell, accompanied by a nutty crumb and some zingy sauce. It was a brilliant end to an even more brilliant meal.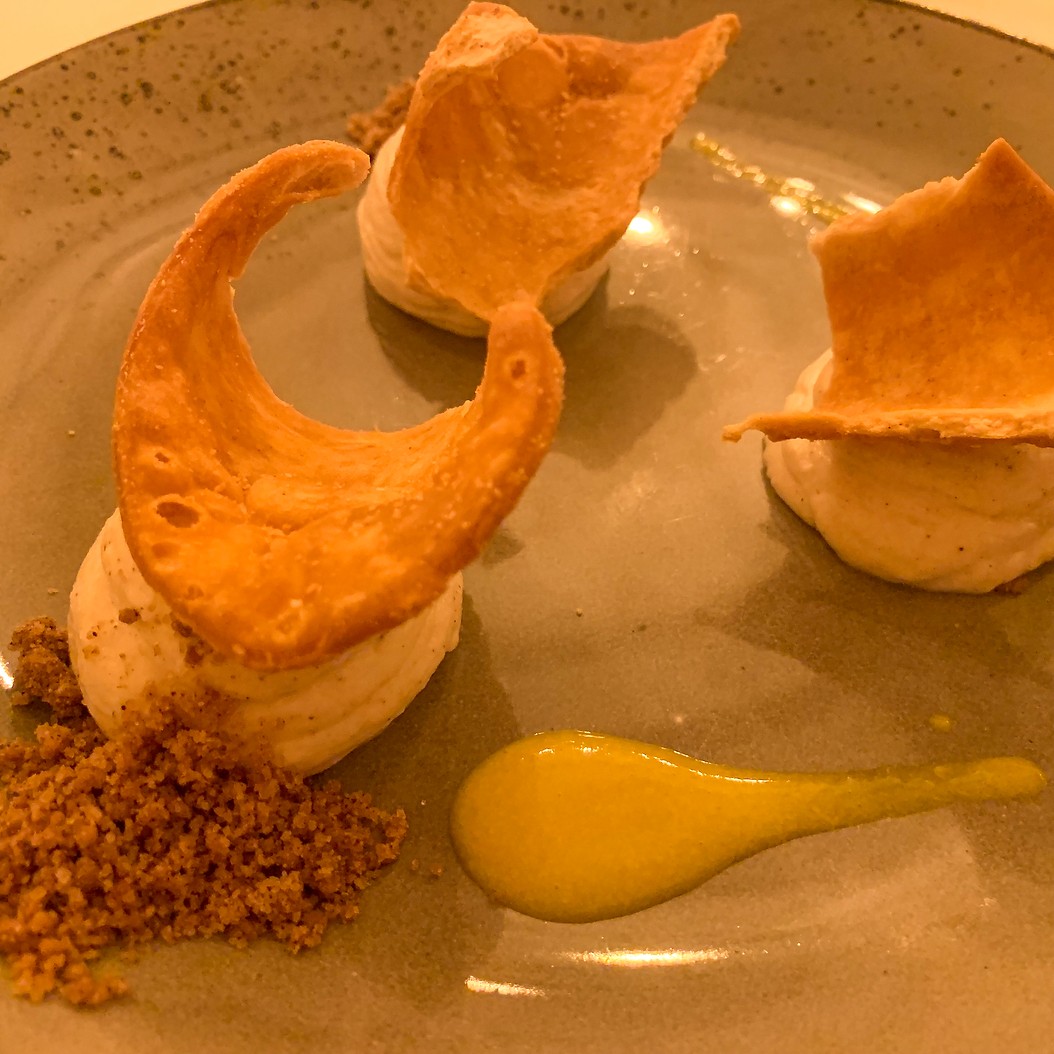 PS – Locanda Maniace's wine menu is a thing of perfection, and the staff give great recommendations.
Oz & Capuccio
Via Emanuele Giaracà, 8
(Lunch & Dinner, closed on Sunday and Monday)
Oz & Capuccio is a tiny, relaxed restaurant right next to Ortigia's fish market. Do not miss this place if you love seafood! One of the owners is the son of the most highly-revered fishmonger in the area, so they always get the best catch… and I've never seen the place anything but very busy. You'll normally have a bit of a wait for your table but trust me, it's well worth it.
The menu is short and perfectly executed. If you like raw seafood, definitely try the violet prawns – you'll never see/taste anything like them again. My favourite order was the tuna burger which is fresh as hell and lightly cooked to perfection. Perfect with a beer or a glass of Grillo in the evening.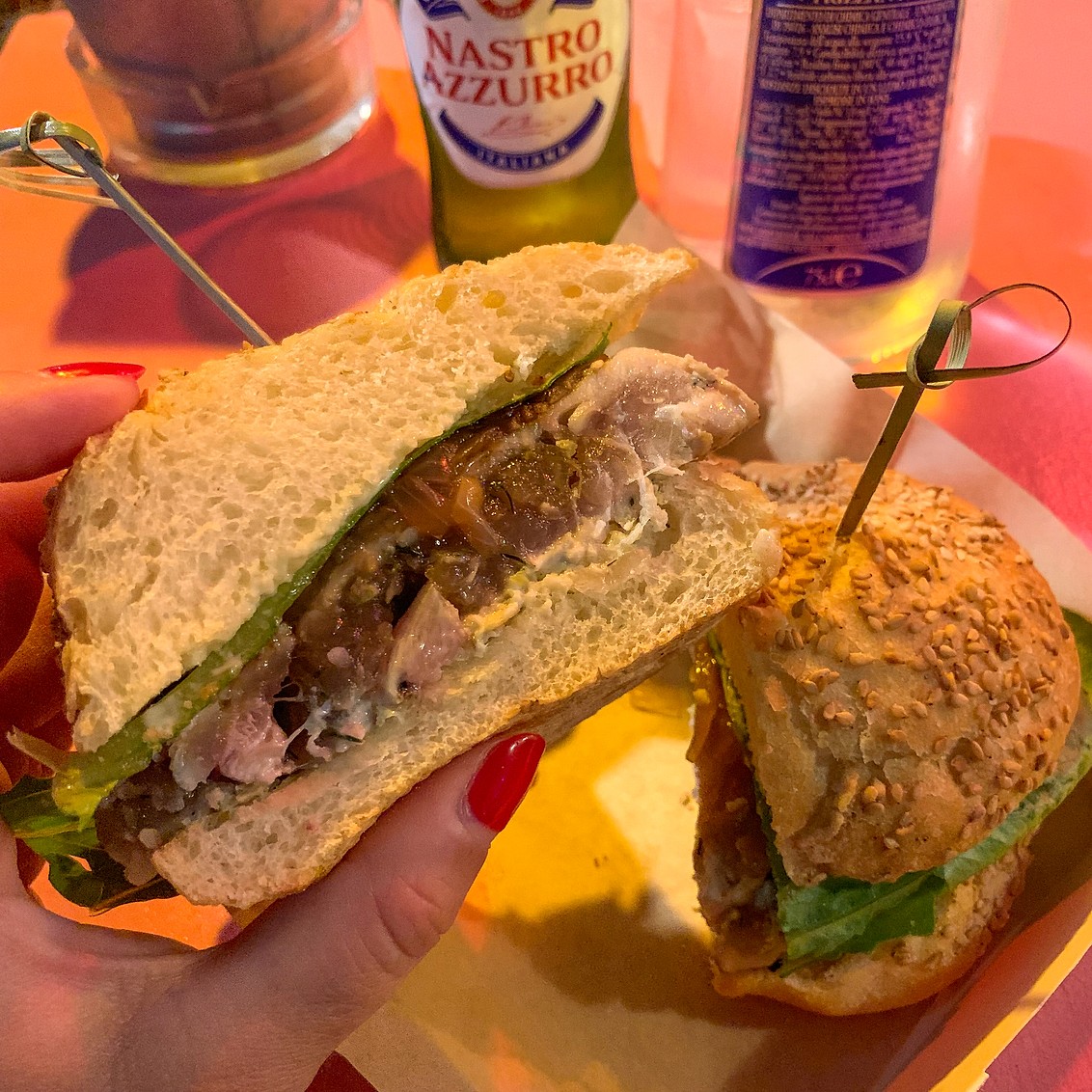 It's worth noting Oz & Capuccio also stock one of my favourite affordable Sicilian wines… an organic Nero D'Avola by Vini Campisi which is aptly named 'Red Red Wine'. Another added bonus: the entire establishment is plastic free!
Locanda Mastrarua
Via Vittorio Veneto, 11
(Lunch & Dinner, closed on Wednesday)
Locanda Mastrarua is a laid-back family-run restaurant with excellent food, and a real hidden gem. I started my meal with a Sicilian orange salad, and it was honestly one of the most delicious things I had on my entire two-week holiday around Sicily. There's something about the combination of fresh oranges, tangy red onion, plump black olives, and chopped herbs that creates true magic.
Next up was the fresh catch of the day, all rounded off with dessert of chocolate and pistachio cream topped with heaps of bright green Bronte pistachios, native to Sicily.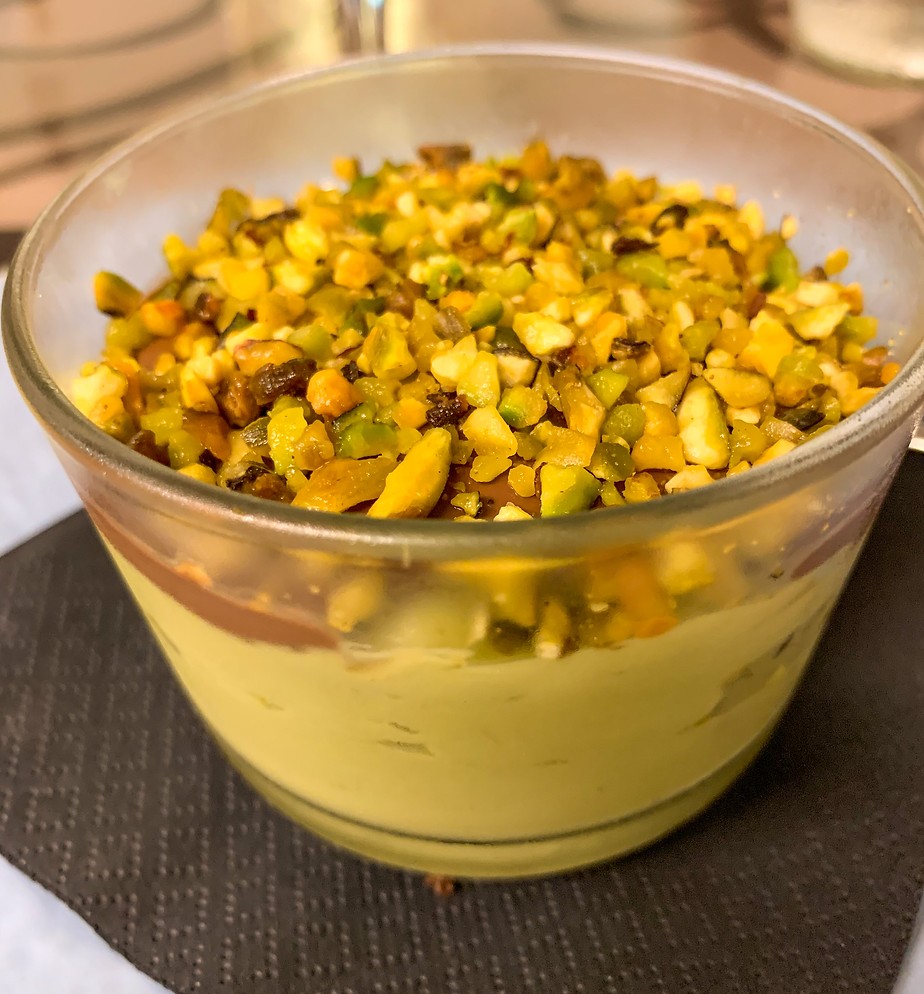 The house wine is cheap and delicious and the owner makes you feel like a part of his family. Don't be surprised if you're given a digestif and the chef comes out for a chat, this is a place to linger and savour your food.
Buon Appetito!
-Courtney