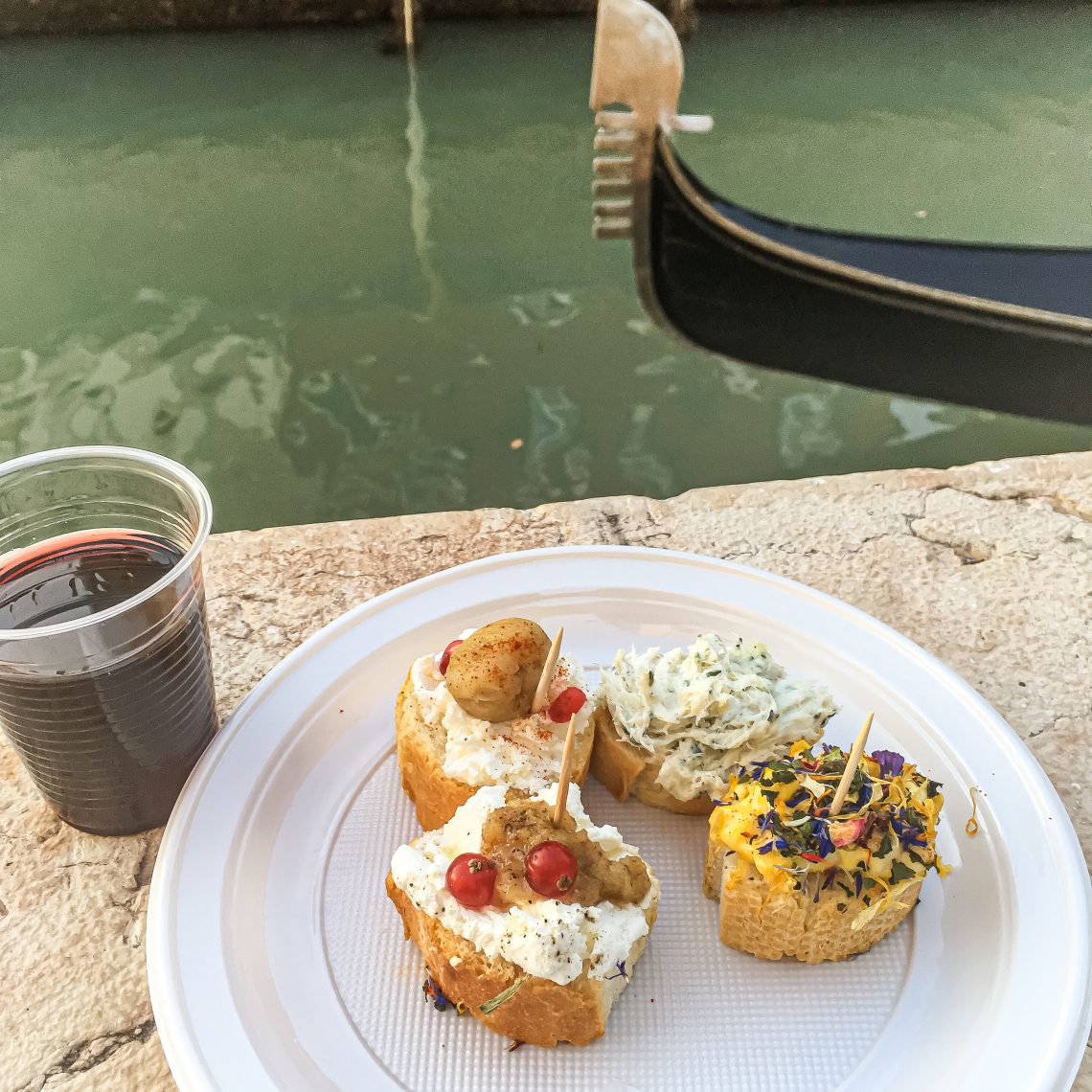 The Venetian Bar Crawl: A Definitive Guide to Bàcari and Cicchetti
I could honestly sit here typing for a week solid on everything I love about Venice, but I'd rather not have carpal tunnel syndrome in my early thirties. Instead, I'm going to settle for simply showcasing my FAVOURITE EVER Venetian pastime – setting off on a (self-guided and marginally tipsy) bar crawl.
A proper Venetian wine/snack crawl goes by many names. Rick Steves calls it "The Standup Progressive Venetian Pub-Crawl Dinner", which is perhaps the only thing ever written by Rick Steves that I've enjoyed reading (soz Rick). Venetians call it giro d'ombra (literally a wine stroll), and me? – I call it a "bàcrawli"… but all of this will be explained in just a moment.
In Venice, far away from the crowds and tourist traps, there are dozens of little places called bàcari. Bàcari (singular: bàcaro) are small establishments that serve up drinks and little nibbles called cicchetti. Cicchetti could be described as being a bit like Venetian tapas, although a Venetian would probably slap me for daring to say that. To shorten a long story, cicchetti are essentially just little bite-sized offerings of fresh, seasonal deliciousness that you snack to 'open your appetite' – and also so you don't get super wasted. It's usually less than €3 for a glass of prosecco in Venice, and I'm about to tell you about places where a glass of wine goes for less than €1 so trust me – eat.
I truly believe that the most authentic cuisine and positively charming atmospheres in all of Venice are to be found right inside these historic little bàcari, and I've made it my mission in life to create the perfect crash course so you can do them, and yourself, justice.
Let's start with food:
Cicchetti comes in hundreds of forms, whether it be meat, fish, or veggie-based. The following are just a few of the true Venetian classics you're likely to find –
* Little fried meatballs (polpette) of either beef (carne) tuna (tonno) or eggplant/aubergine (melanzane).
* A little octopus (polpo) skewered by a toothpick. Morbid? Maybe. Delicious? Definitely.
* Sarde in saor – Venetian style sardines… usually with onions, vinegar, pine nuts, and raisins (I know it sounds weird as fuck, but trust me on this).
* Baccalà – incredible creamed salt cod, usually served on crostini or a slice of polenta.
* Mozzarella in carozza – fried mozzarella… a.k.a the unbeatable hangover cure.
There will also probably be tiny sandwiches or panino, various marinated vegetables, local cheeses, lashings of cured meats, and pretty much anything that's able to fit on a piece of bread or crostini.
Whatever you end up choosing, a plate of 4 or 5 cicchetti should only set you back about €6-€8.
Thirsty? Me too. This is what you should be drinking:
Wine
Oh, Italian wine. I could happily drown in you… many a time I almost have.  The Italian region of Veneto (of which Venice is the capital) produces stunning wines. For red, you really can't beat a good Amarone. It's not cheap, but it's worth it. If you prefer a lighter red, Bardolino is always a safe bet. For white, Soave and Pinot Grigio are your friends. Servings of wine are sometimes listed at bàcari as ombra, which actually means 'shade' in Venetian. The name comes from old-timey Venice where a wine merchant would sell vino from a little cart in Piazza San Marco. To keep the wine from spoiling, he'd move throughout the day in line with the shadow of St. Mark's Campanile. An ombra is smaller (and cheaper) than a standard glass of wine, which means you can stop by a few bàcari without getting sloshed or breaking the bank.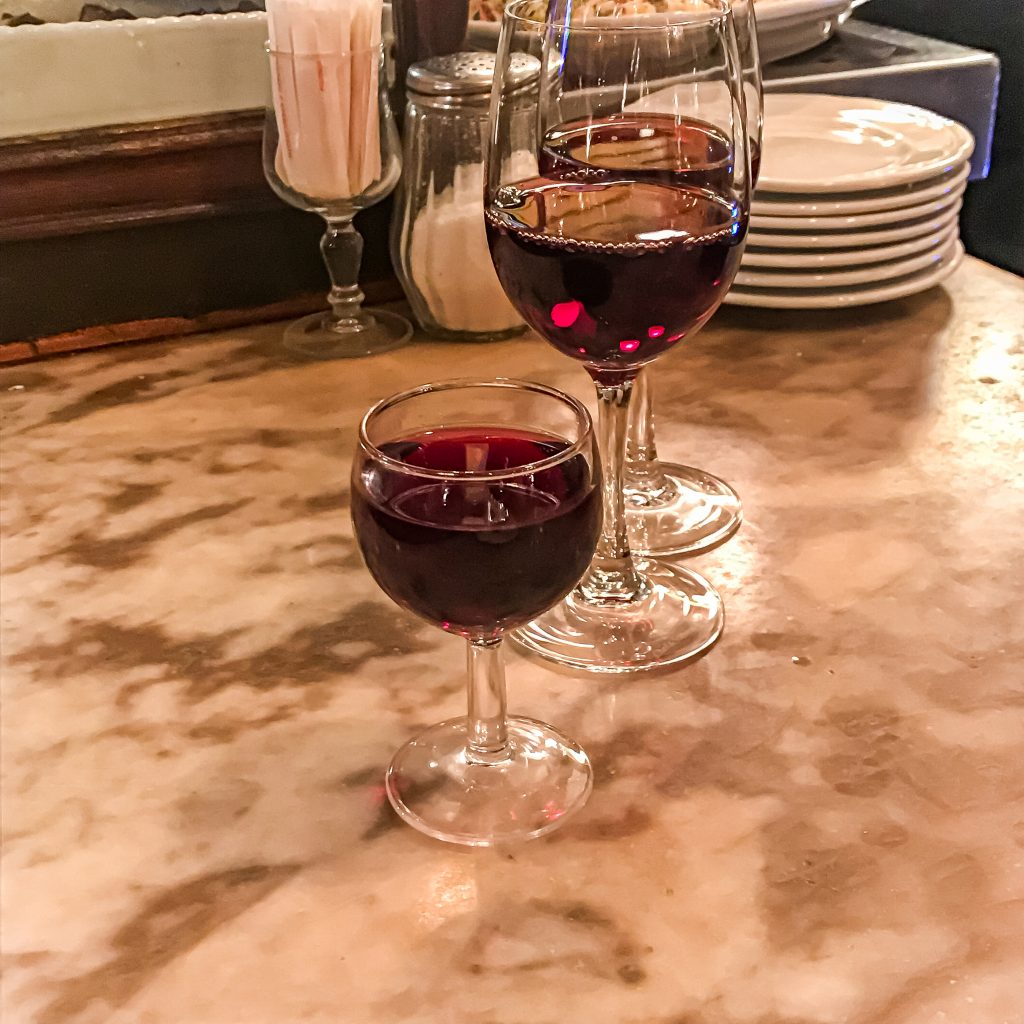 Prosecco
This sparkling white wine is produced exclusively in two regions of Italy, and the Veneto region is one of them. Prosecco is sometimes spoken of as a cheaper alternative to champagne, but we all know the French are snobby bastards so give it a try and decide for yourself. Prosecco is made from an entirely different grapen varietal and fermented differently than champagne, and I actually find prosecco to be much more approachable and refreshing.
Spritz
This vibrantly coloured classic cocktail consists of an Italian bitter liqueur paired with either prosecco, prosecco and soda water, or white wine and soda water. I have yet to crack which combination is the most authentic as everyone seems to disagree, but the more important question is which bitter to choose.
Campari: The strongest in flavour and pretty high on the alcohol content – not recommended for amateurs!
Aperol: Lighter and less bitter than Campari, and has become all the rage recently.
Select: The true Venetian bitter. It's garnet red and sits somewhere between Campari and Aperol in terms of how strong/bitter it tastes. This is my absolute favourite!
Cynar: A notably less common variety, which is actually made from artichokes. I'm not the biggest fan, but it's worth a try!
* If you really want to, you can have a bellini… but they tend to only be found in places catering to tourists (and they usually cost a fortune). If you must have one Harry's Bar is where the drink originated, and they still do the best bellini in the city.
Important notes:
* A fair few bàcari are closed on Sundays, so Sunday is not a day that I'd recommend attempting a major bàcrawli.
* There are usually somewhere betwen zero to four seats in the bar area of these establishments, and the norm is to stand (either inside or out) and chat with everyone. Don't be shy, I've met so many lovely locals this way.
* The early bird catches the worm, and in this case the worm is ambiance. I'm not saying don't go to a bàcaro in the evening, but definitely try popping into a few earlier in the day for a more relaxed experience… especially if you're visiting Venice in the summer months.
* If you find yourself feeling ravenous, some of the places listed below also do proper meals. The cicchetti counter will be at the front, and you'll notice lots of tables inside which are for proper diners (not just someone grabbing a snack). If you ask for a menu and a table you can sit down and have pasta etc.
Ready to set off on your own bar crawl? Here are some of my favourite spots to drink like a Venetian, by sestiere –
(Note: sestieri are the different neighborhoods of Venice – for a full breakdown of Venetian jargon and how their wacky address system works, see my 'Beginner's Guide' to Venice!)
Cannaregio:
Al Timon – Fondamenta degli Ormesini, 2754
Al Timon is probably the most 'hip' Venetian bàcaro. It's in an area of Venice that's far enough away from all of the main tourist attractions, and attracts a younger local crowd. They've got an enormous counter inside that's filled with different cicchetti each day, but the best ones go quick so don't arrive too late. There's also a little barge moored just outside on the canal which is owned by them, so if it's a sunny day stake a claim on the water and enjoy living the dream. They also have a (very small!) restaurant inside which does incredible steaks. For more info check out my post on Venetian restaurants.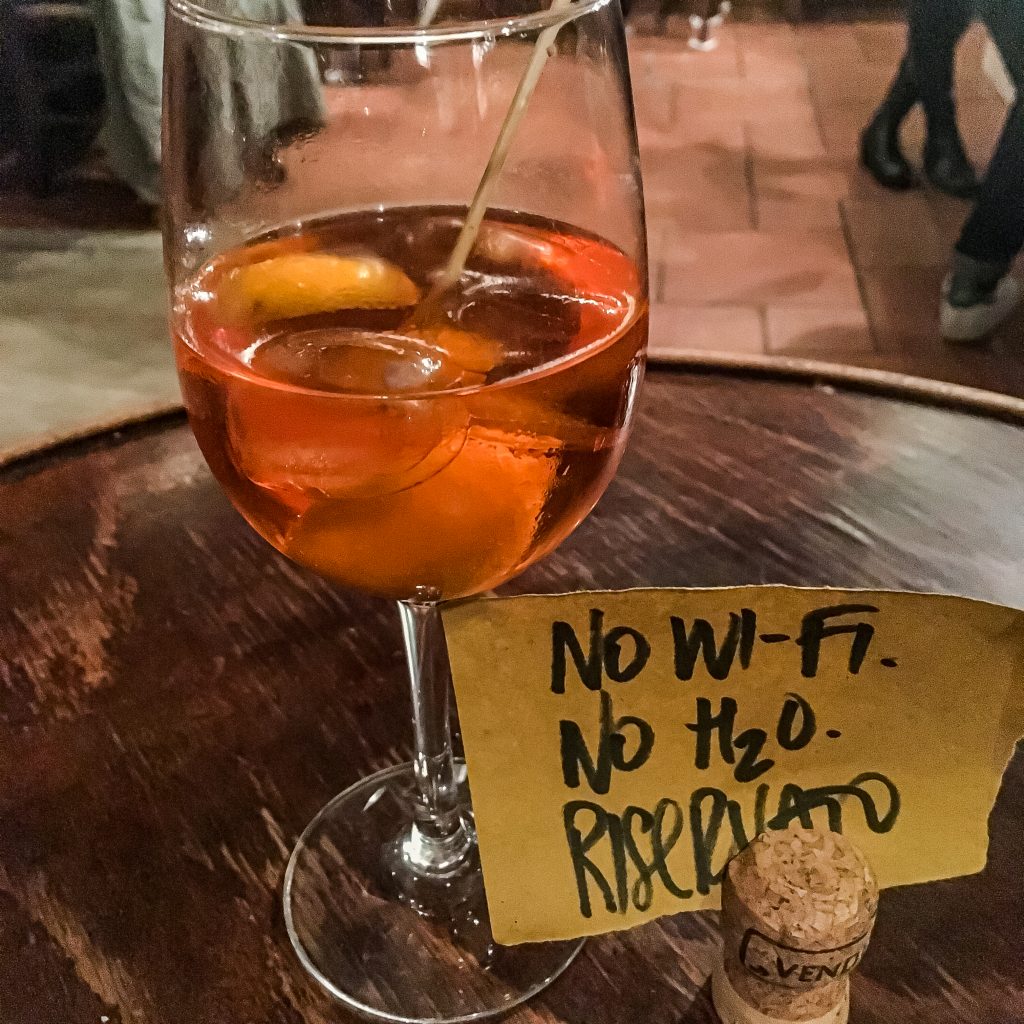 Alla Vedova – 3912
THE MEATBALLS. I need you to try the meatballs. Alla Vedova isn't just a bàcaro, it's a proper trattoria serving up some incredible local cuisine. I do recommend it for dining, but I often just pop in for a couple of glasses of house wine (poured from a big pottery jug) and a few of their famous fried meatballs (polpette) which literally melt in your mouth. They churn out hundreds of them in the evening, but they go as quickly as they arrive so keep a close eye on the bar for fresh bowls of them coming out of the kitchen.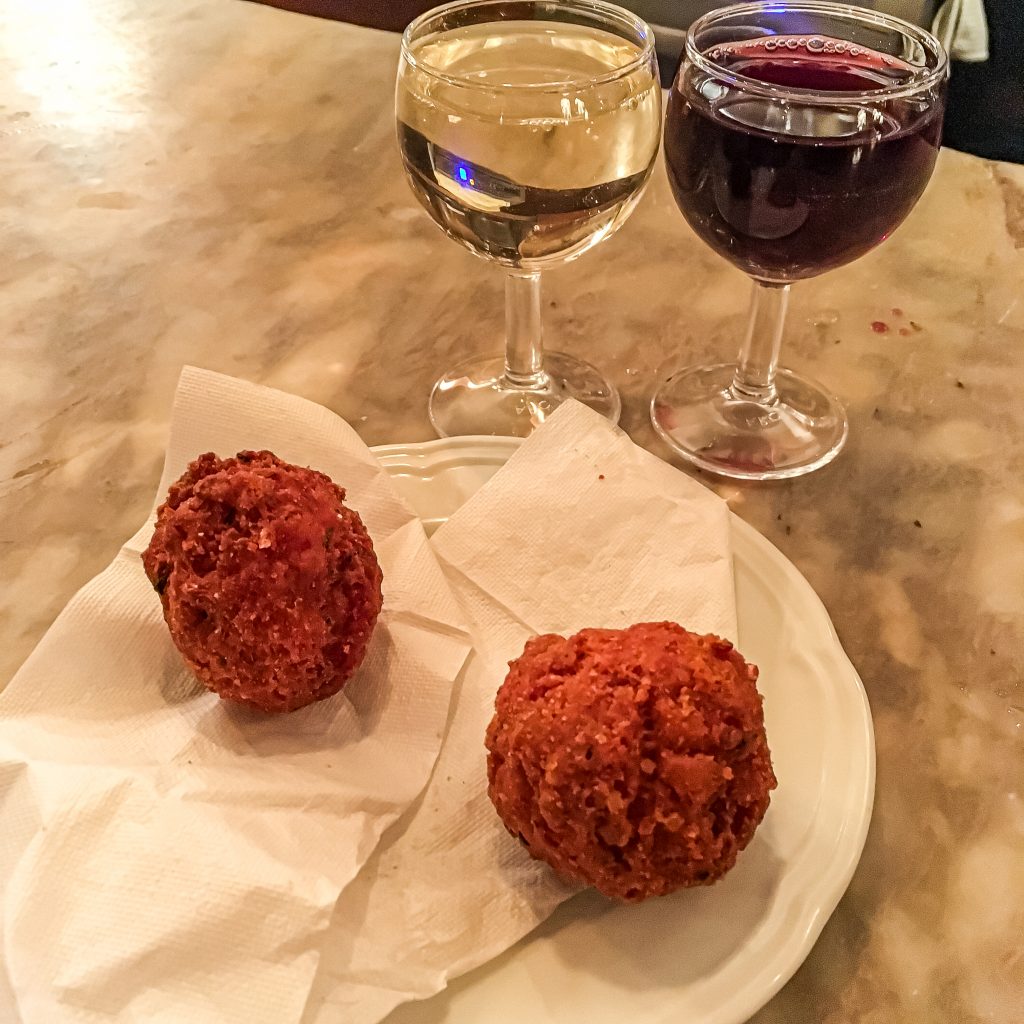 Castello:
Osteria al Portego – Calle della Malvasia, 6014
€1 house wine, you guys. This place is small and it's usually standing room only (the dining room in the back is reserved for proper meals – understandable) but you can usually nab a spot at one of the big barrels outside. The staff are superb, some of the friendliest in Venice, and their spritz packs a punch. One of my favourite bites here was a little crostini with shrimps and orange, and I'm also kind of obsessed with their grilled polenta.

Dorsoduro:
Al Squero – 943/944
Al Squero will always hold a special place in my heart. It was the very first bàcaro I stumbled upon during my first trip to Venice. It was sunny, it was my birthday, and I was a bit tipsy. It really couldn't have gone wrong. Al Squero is located right across a small canal from one of the boatyards (squero) where they make gondolas, so there's some excellent lingering and watching to be done here. I know this because I once spent a good hour perving on a young (handsome) man working on a boat in the Venetian sunshine. He also had a cat, a little Venetian cat… so I might be in love. In any case, they do an incredible spritz, and I'd recommend getting there on the early side of the afternoon because it gets a bit rammed as the daylight wanes.
Cantina Schiavi – Fondamenta Nani, 992
This is an excellent and very well-known (read: busy) bàcaro, normally packed to the brim with locals and tourists alike, and it is absolutely worth every second you may have to wait. On any given day there will be at least 15-20 options to choose from, including plenty of unique offerings you won't find elsewhere in Venice. My personal favourites? The classic baccalà is creamed salt cod on a small crostini, but try their version laced with garlic if they have it – so good! The crostini topped with brie cheese and nettle sauce is incredible too, as is the one topped with edible flowers.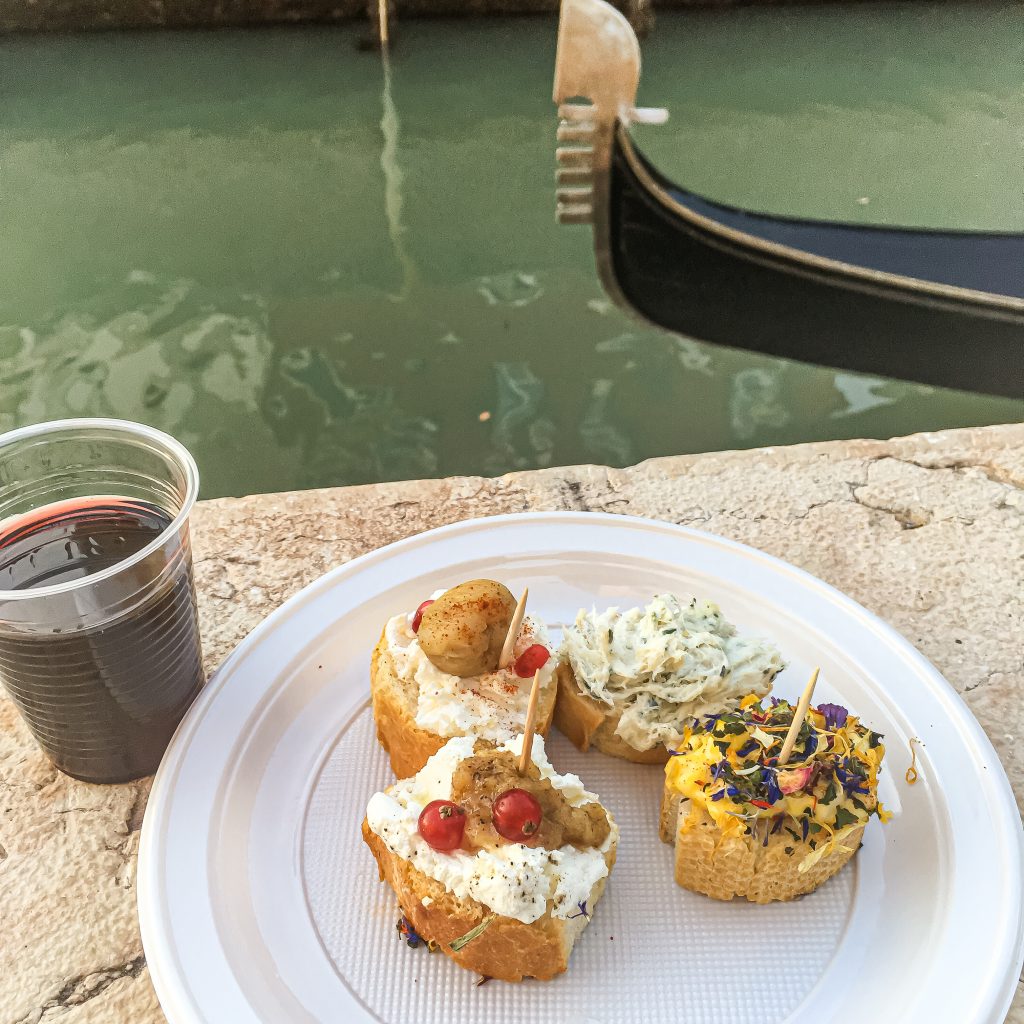 Aea Canevassa – Calle Foscari, 3255
I can't believe I'm sharing this one as it's entirely off the tourist radar and one of my truest hidden gems in Venice. Aea Canevassa is run by the most amazing Venetian couple, Donato and Roberta. I first met them when they owned and ran another bàcaro in Campo Santi Apostoli, which I used to frequent so often that Donato once gave me a staff t-shirt! They've since sold the old place and opened up this new venture right by the University, still serving up the same great food and great vibes. I can't make a trip to Venice without stopping in a few times to give them big hugs and eat some of Donato's incredible cicchetti (just ask him for a plate of his favourites – you'll never be let down!). Bonus: Roberta makes the best spritz in Venice – you heard it here first. If you stop in, please tell them Courtney says ciao!

San Marco:
Enoteca al Volto – Calle Cavalli, 4081
Cicchetti gems are a rarity in the tourist-laden San Marco area, but this little enoteca is the exception. Located just a short stroll from the Rialto Bridge, it's an absolute wonder that the prices are so reasonable. Al Volto is rumoured to be the oldest wine bar in Venice, with about 1,000 different bottles on offer any given evening. The staff are well versed on the juice, so even if you're not a confident wino you're sure to leave in a merry state. The attached restaurant does brilliant food, but we're focusing on cicchetti here and trust me when I say you need to get involved with the salami and artichoke crostini.

San Polo:
Cantina Do Mori – 429
A strong contender for my favourite bàcaro. Do Mori dates back to 1462. It's an old-fashioned chair-free haven of wine, and I could easily spend an entire day drinking, eating, and people-watching here. It's said Casanova himself used to frequent this bar, which makes me wonder what I would give to go back in time and have a chat with him over a bottle of wine. Speaking of wine… they've got huge wooden vats of them behind the bar. I would crawl into one and drink myself to death if I could, but I'm not sure I'd fit. Food-wise anything you try will be delicious, but I'm a sucker for whatever the hell cheese it is that they always have on little toothpicks. Seriously. Give me all of your cheese. Fun fact: they open at 8:00AM (for the fisherman at the nearby Rialto market)… #wineforbreakfast.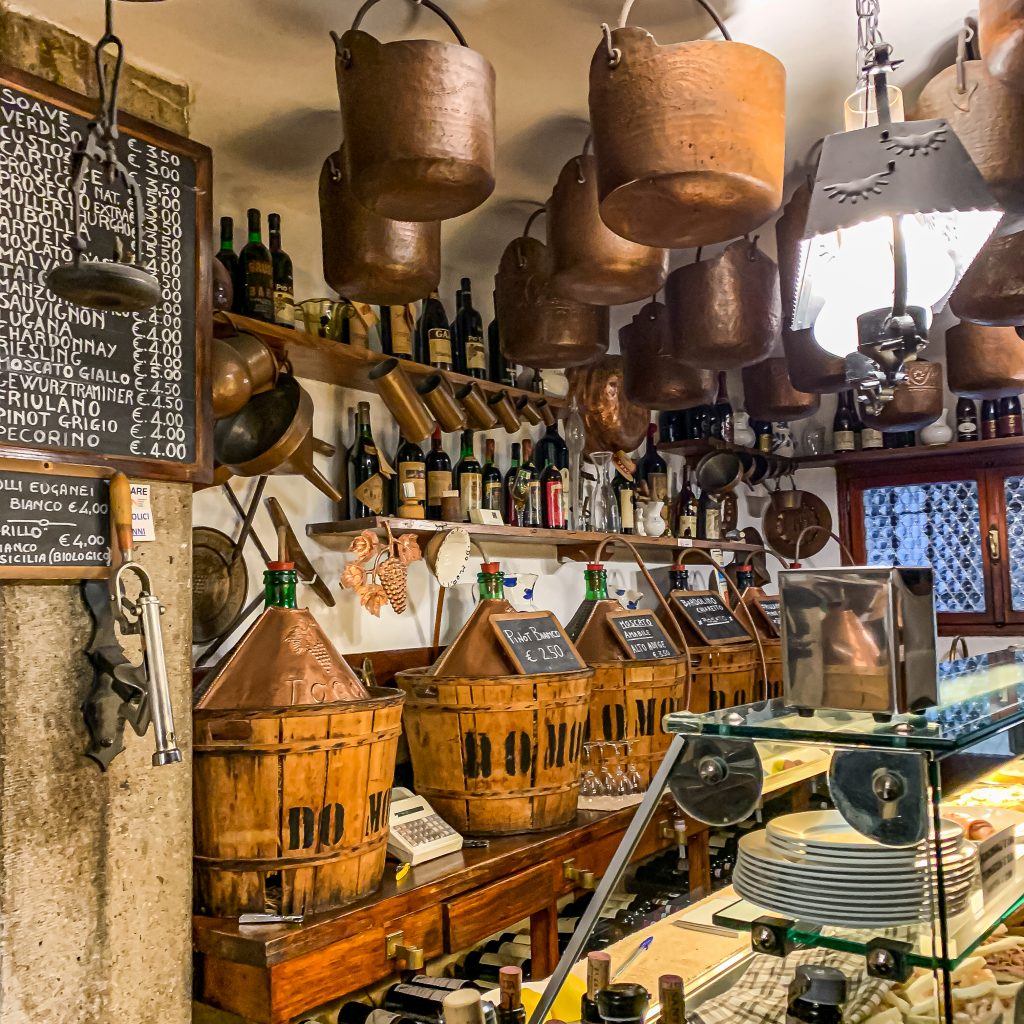 All'Arco – Calle Arco, 436
Not too far off from the Rialto Bridge, All'Arco is a family-run longstanding favourite of the locals. They've always got a great selection of cicchetti, but no visit to All'Arco is complete without trying one of their mind-blowing sandwiches. I'm fairly sure there's every kind of meat and cheese you could ever imagine, along with a selection of grilled and marinated vegetables and different spreads. It's also literally opposite Do Mori (above) so this is great place to kick off your tour de force of bàcari!
Ostaria dai Zemei – Ruga Rialto, 1045/B
Run by twins Franco and Giovanni, this tiny bàcaro is a haven for foodies. The cicchetti varies from classic to inventive, and everything is top quality. Strewn about the bar are various photographs of the twins from childhood, along with images of other pairs of twins who've stopped in. I always get some of their tiny bite-sized sandwiches – I'm not sure who their supplier is but the salami, prosciutto, etc is divine! If you can handle the heat, they do some seriously good spicy cicchetti as well.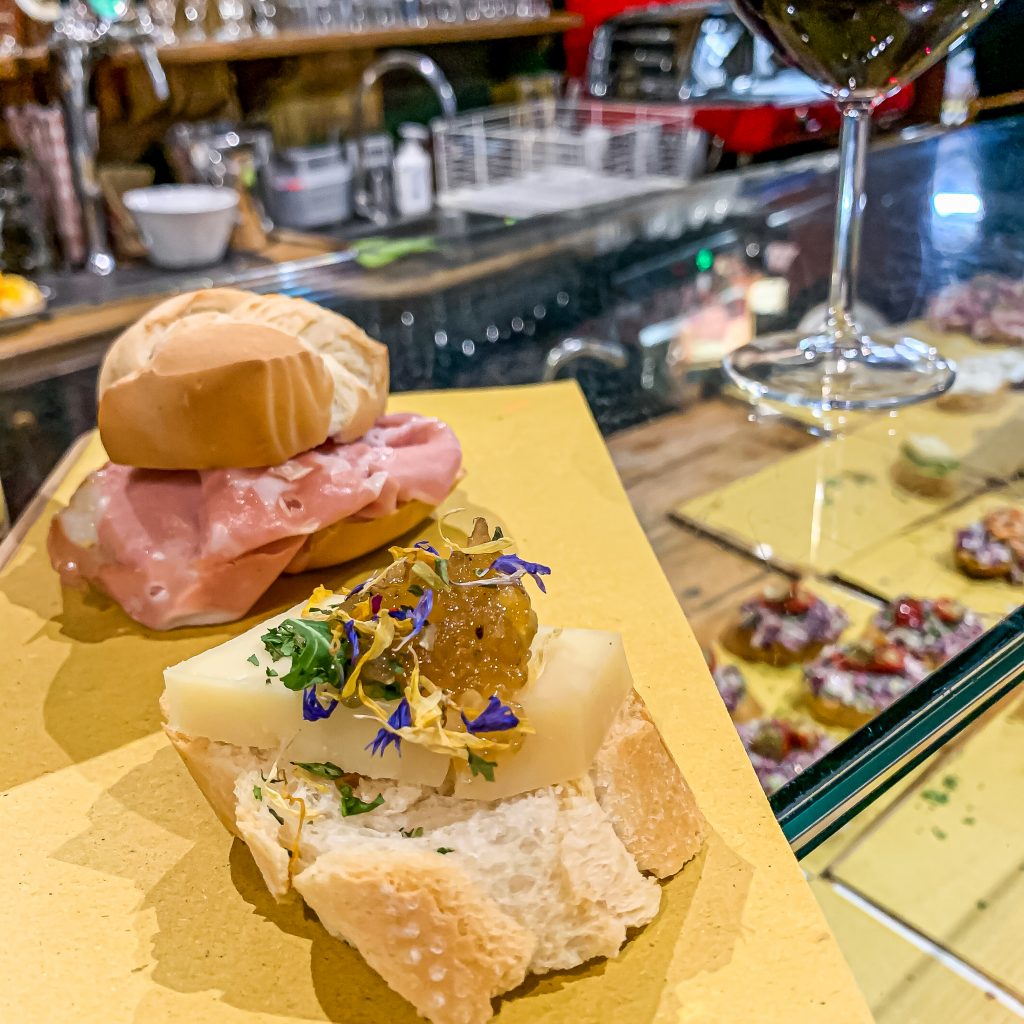 Cantina Do Spade – Calle Do Spade, 859
Another spot frequented by Casanova in Venice's heyday… he even mentions the place in his memoirs. The zucchini flowers are all you need in life, and small jugs of their house wine can be ordered for just a few euros a go. If you like calamari, they do some of the best in Venice and there's a vast selection of fresh seafood options in the cicchetti case every day.
Cin Cin!
Did I manage to forget your favourite bàcaro? Forgive me, and leave a comment! I'd love to try it out next time. That's the beauty of Venice… no matter how many times you've been, there are always so many places you've still yet to discover.
Ciao for now,
Courtney