It has somehow taken me an actual global pandemic and the inability to travel for over a year in order to finally write a post about the city I call home, Bath. I've lived here for about eight years now, and – despite my lack of extensive Bath content (soon to change) – I truly adore this place.
Bath is just 90 minutes from London by train, and its rich history (the entire city is a UNESCO World Heritage Site) has been drawing visitors for centuries. The current city sits atop the foundations of an ancient Roman town, called Acquae Sulis. The Romans built temples and a vast spa complex here which linked to the city's natural thermal waters. Flash forward to the 18th century when Bath grew into the city you see now, with wide streets and crescent-shaped rows of honey coloured terraced houses. You'll notice Bath featuring heavily in Georgian/Regency era period dramas (ie Jane Austen adaptations and, more recently, Bridgerton). Throughout the 1700's and early 1800's Bath was essentially the posh Las Vegas equivalent of its time for Britain's wealthy elite – full of places to relax gamble, dance, drink, shag, and socialise.
I'll save the history of Bath for another post (to be linked here when completed) but, for now, I want to showcase some of my city's finest breakfast and brunch spots. These are places I often frequent, so I can fully vouch for each and every one of them – and you won't find a big chain in sight because now, more than ever, it's important to support local.
Good Day Cafe
12 Upper Borough Walls
Good Day Cafe is fun brunch indulgence in its purest form. If I've got friends in town, this is normally where I'll take them. The menu serves up all of the classic, including fluffy American-style pancakes with real maple syrup and bacon (I'm American and can vouch for them!), smashed avocado on toast, and plenty of eggs benedict options including the best eggs florentine (my favourite) in town!
If you have a sweet tooth, they also have a huge counter stuffed with the most decadent brownies, cookies, brookies, and cookie pies – but they sometimes sell out quick so get there early!
Cortado
8 Alfred Street
I have so much love for Cortado, an Argentinian coffee shop right around the corner from my flat. I like to stop in nearly every morning for a cortado (like a smaller, stronger, flat white!). The cafe is owned by Fran, an Argentinian, and his British wife Sophie – and you'll often see them in the cafe running things alongside their amazing members of staff.

Cortado offers up a brilliant brunch menu using an abundance of locally-sourced ingredients, but the star of the show is their homemade Argentinian empanadas that keep locals queuing up for more.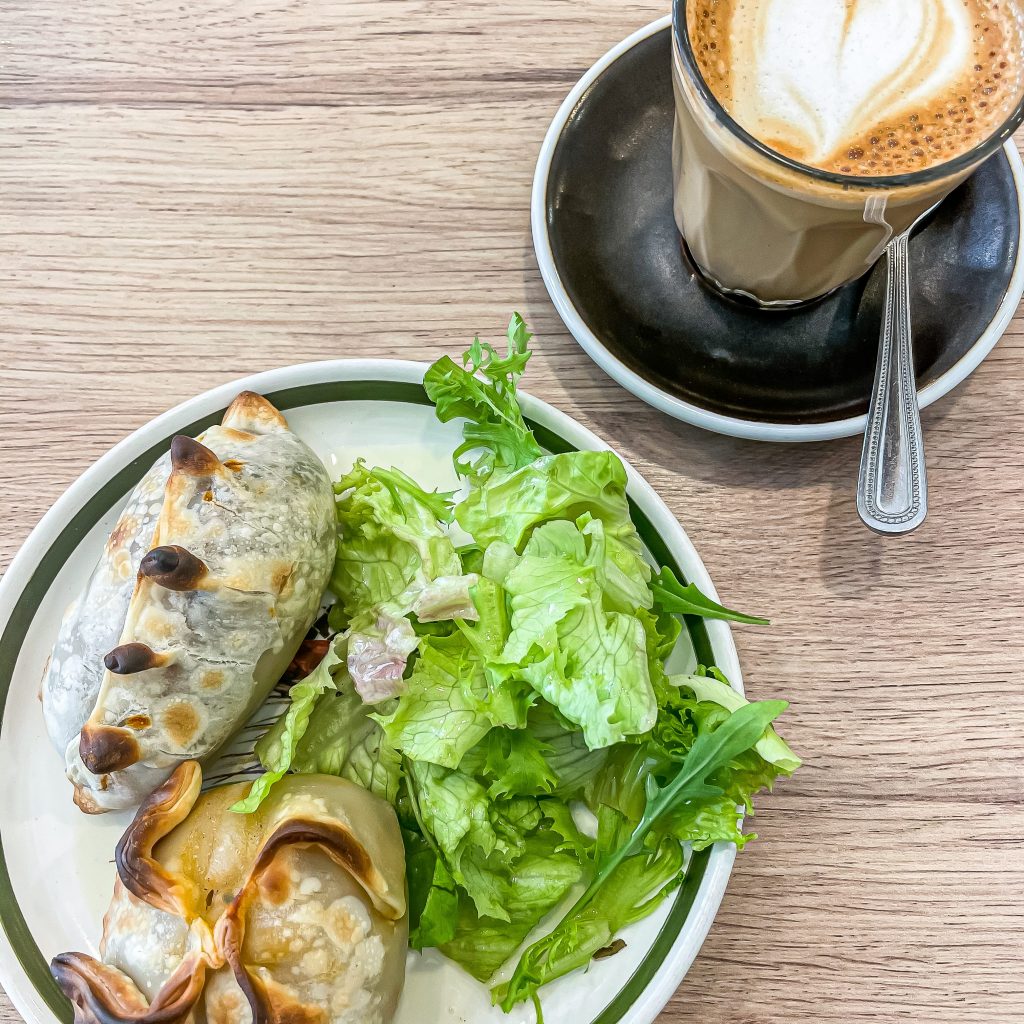 My favourite empanadas are the minced beef al malbec (hi, wine!) and the vegan black bean and sweetcorn – both are utterly delicious and you can eat them in or get them to take away to one of the nearby parks on a sunny day. They've also got an array of freshly made salads that change every day, perfect to accompany your empanadas.

I think it's also worth noting that Cortado is an incredibly ethical business. You won't find any drinks being sold in plastic bottles, all packaging is fully compostable, and every effort is made to source ingredients from local, independent suppliers. Top marks all around!
Boston Tea Party
8 Alfred Street
Boston Tea Party is a small, family-run chain of local cafes with a menu full of innovative brunch options. They have two locations in Bath, one in Kingsmead Square and another on Alfred Street (my favourite as it's huge and brilliantly located for the Assembly Rooms and the Royal Crescent if you're sightseeing!).

They do truly epic HUGE full english breakfasts – including veggie, vegan, and gluten-free options – which are perfect as a hangover cure or to set you up for a long day exploring the city. If you're more adventurous, I am obsessed with their sweetcorn hash with sweetcorn fritters, halloumi, poached eggs, spiced maple syrup, coriander, and chilis. There's also cheddar & jalapeño cornbread, and miso greens & eggs if you're looking for something a bit out of the ordinary!
The Alfred Street cafe is also the perfect place for doing a bit of work if you have your laptop or need to do some writing or editing photography – there's always a great buzz and lots of people head there for coffee meetings and casual working lunches.
Rosario's
18 Northumberland Place
Rosario's is easily one of my favourite cafes in the city. It's independent, authentic (the Sicilian pastries oh my god), and incredibly welcoming. They also do proper no-frills STRONG Italian espresso – which means a lot to me in this world of OTT posh coffee shops.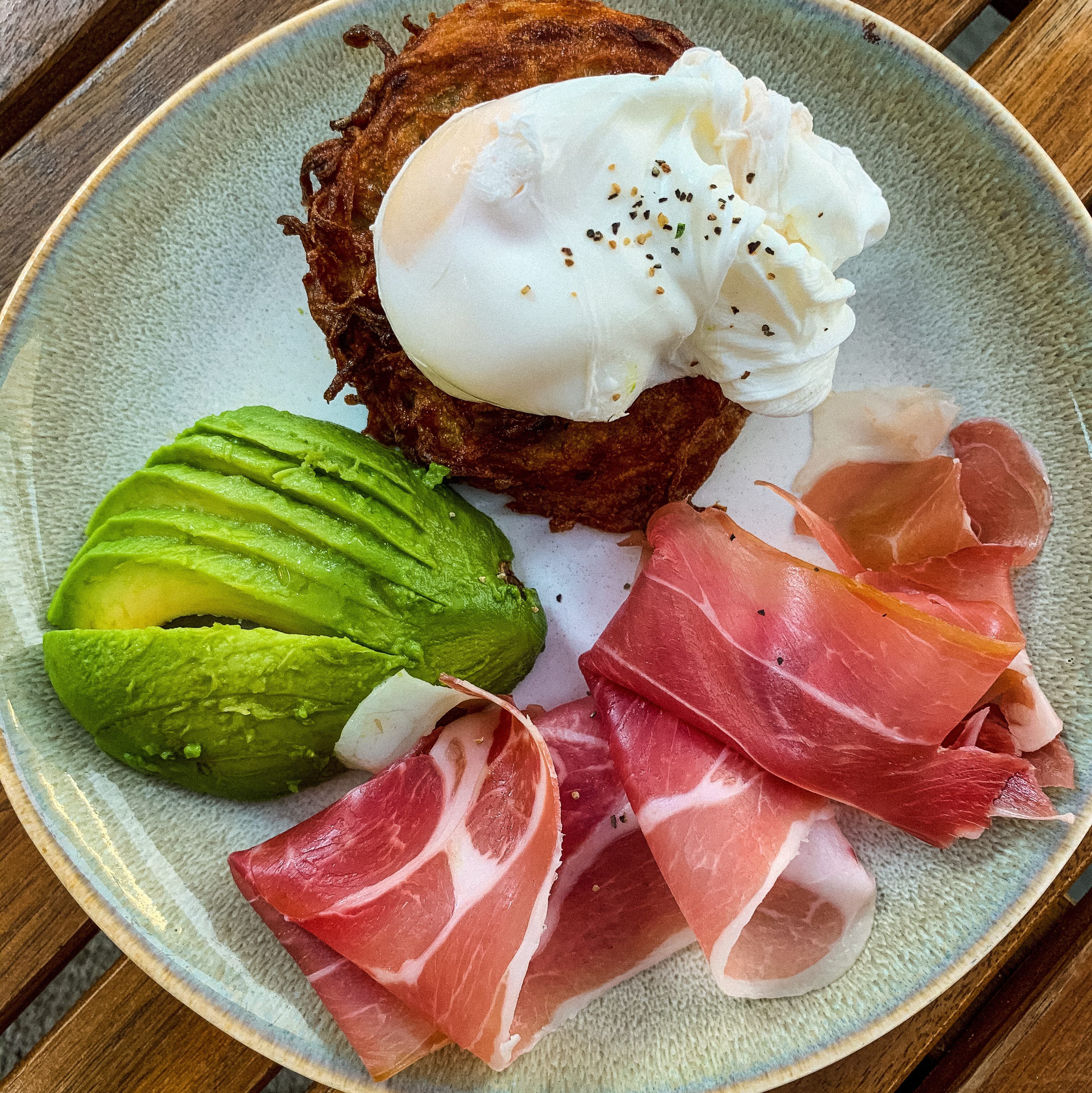 During breakfast they make homemade potato cakes, which you can get topped with a poached egg and paired with all sorts of bits including prosciutto (my favourite), salmon, or roasted mushrooms. There are also insane cakes, cannolis, and pastries to indulge in if you prefer something sweet. They sometimes have pasticciotto which are the most incredible custard filled deep pastries that I can't recommend enough, and I never ever leave without grabbing a taralli al limone – a soft iced cookie with a good kick of Italian lemon zest.
The Green Rocket
1 Pierrepont Street
Green Rocket is a haven for veggies and vegans. It's located on Pierrepont Street, right in the centre of town – a stone's throw from Bath Abbey and the Roman Baths. I'm not vegan but my diet is heavily plant-based, something I picked up from my years in California. I have a deep appreciation for tofu (I know how weird this is – but trust me, the stuff is incredible) and I love my greens.

Whether you're veggie or not, breakfast at The Green Rocket will set you up for the day without completely weighing you down.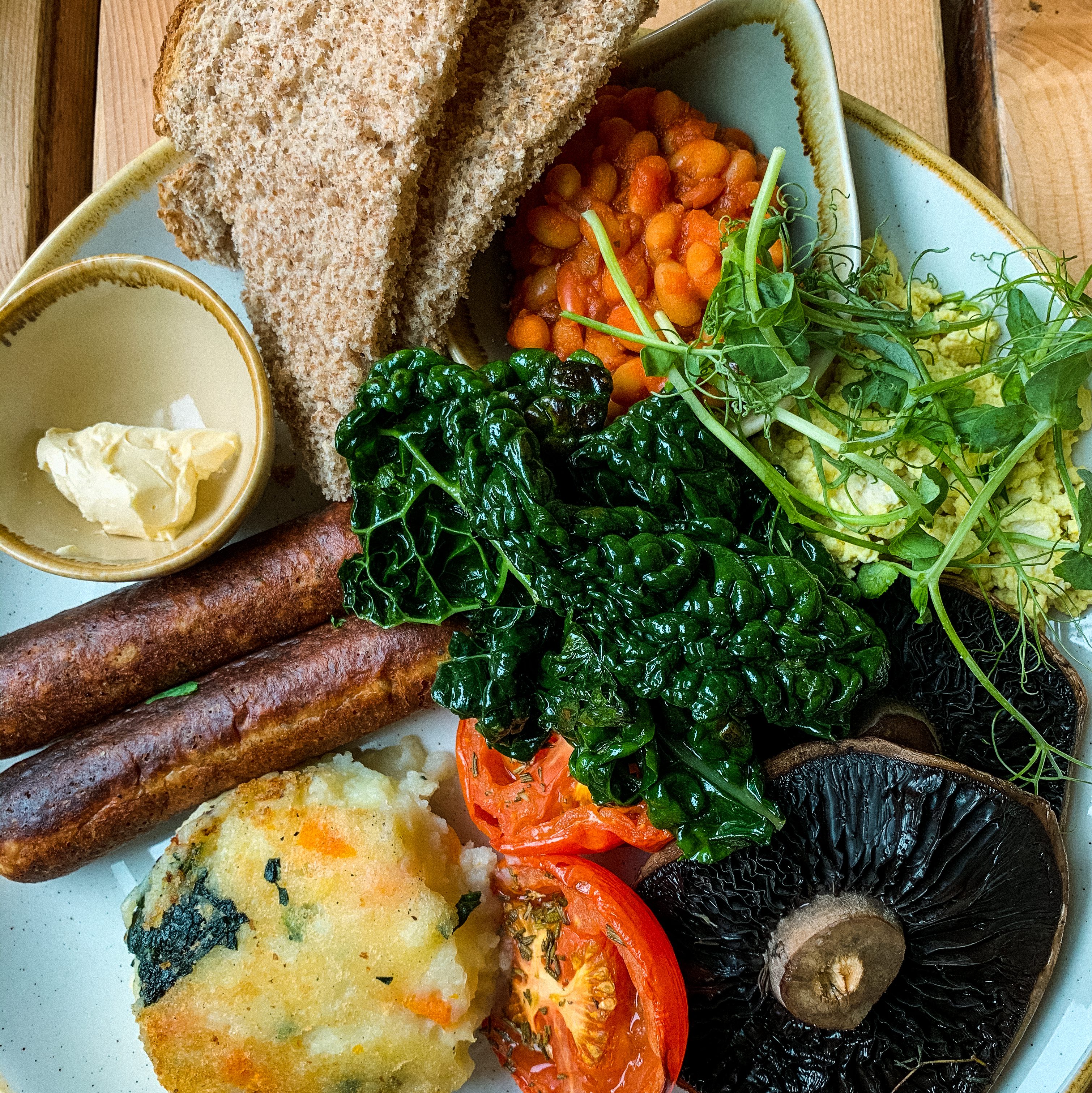 I love their Monster Veggie Brekky (pictured above) which has scrambled tofu, kale, veggie sausages, baked beans, portobello mushrooms, roasted tomatoes, and bubble & squeak (a very British veg and potato mix). They also do a mashed avocado and bloody mary salsa on toast that's excellent, and I rate their matcha lattes on the highest level.
Happy brunching – and more on Bath to come!
xx Courtney